UCCS Gallogly Recreation and Wellness Center will host a sanctioned indoor triathlon event, USATri60, in partnership with USA Triathlon 8 a.m. – 1 p.m. Nov. 10.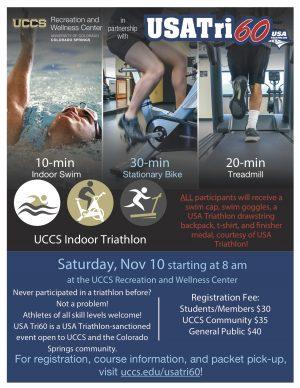 "UCCS Recreation is the first university in the nation to host the USATri60 program as a sanctioned USAT event," Brooke Freudenhammer, program coordinator, UCCS Gallogly Recreation and Wellness Center said.
The event is open to the public and provides an opportunity for beginners and experts to compete in a safe, fun and supportive environment.
Participants can compete individually or as a team of two to three people of any age or gender. Awards will be given to the top male and female participants.
Indoor triathlon schedule:
10-minute swim
30-minute stationary bike ride
20-minute treadmill jog or run
Each participant will receive a USA Triathlon swim cap, drawstring bag, t-shirt, googles and finisher medal.
"This is a great way to bring the community together to celebrate active lifestyles and we're lucky to have an NGB like USA Triathlon as a partner," Freudenhammer said.
Early Bird Registration Pricing:
$30 students and recreation center members
$35 UCCS community participants
$40 general public participants
Prices increase $5 after Nov. 4. Registration is open now.
Participants are required to provide their own towel, swim suit and biking/running shoes. Swim cap and goggles will be provided.
To select a specific wave time or have any questions or comments contact Freudenhammer.