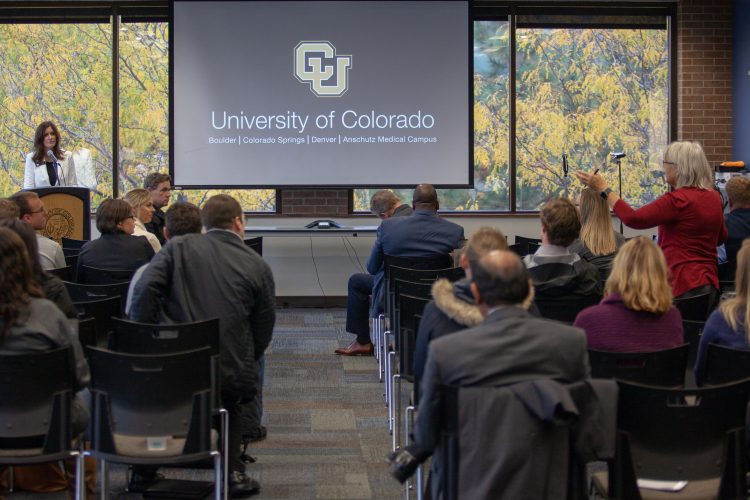 An Oct. 11 town hall open to UCCS faculty, staff and students represented the first campus stop for the two Regent chairs tasked with identifying the next president of the CU system. Search committee co-chair and Regent Heidi Ganahl guided the conversation on campus while co-chair and Regent Irene Griego joined by phone. 
For more than an hour, Ganahl and Griego posed questions about the qualities that the committee should look for in the next president. Among the questions, the two asked how important a Colorado connection is for the next president, the most pressing issues on campus, the type of leader that CU needs, what makes people proud to be a UCCS and what level of emphasis should be placed on research.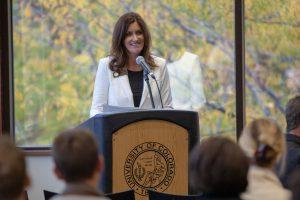 Attendees shared their desire of a president who is passionate, understood the concept of shared governance with the multiple stakeholders, is visible on the campuses and has a proven record. Other common themes included an individual who can champion the missions of each of the four campuses while uniting the university, and share the value of higher education with legislators and the public. 
"We're looking for a champion for higher education," said one staff member. "We need an advocate for what we do." Students in attendance were looking for a president who would be visible on campus.
Chancellor Venkat Reddy, who served on the search committee when President Bruce Benson was hired in 2008, said that the environment of CU is much different than it was a decade ago. The next president should be someone who can continue to build relationships, has an appreciation of the academic mission and understands the challenges facing higher education.
Campus and community members who were unable to attend the town hall are encouraged to submit thoughts through an online public input form at cu.edu. 
The search process began after Benson announced in July 2018 that he will retire from the university in July 2019. Wheless Partners will assist the board and the committee in the search process and recruitment. 
Submissions for the search committee closed Oct. 8. The Regents are expected to name the committee in a special meeting Oct. 24. Per Regent Policy 3(E), the committee will consist of two Regents; one dean of a college, school or library; four faculty members from Faculty Senate, one from each campus; one student; one staff member; two alumni; and four community members. The committee will receive its charge Nov. 8.