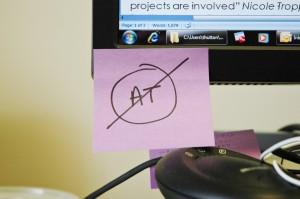 It's now official, there is no more "at" in the University of Colorado Colorado Springs, according to an authority no less formidable than the U.S. Postal Service.
Soon, only items labeled University of Colorado Colorado Springs can be sent under the authority of the university's nonprofit standard mail permit. From April to Oct. 2011, the Post Office will accept items with either "University of Colorado at Colorado Springs" or "University of Colorado Colorado Springs." After Oct. 11, only the preposition-less version of the university's name in the return address and body portion of the material being mailed will be accepted at the nonprofit rate. New materials must have the correct name of the university by that date.
Many student recruitment and other large-scale mailings take advantage of the lower rates offered by the nonprofit permit. Continuing to use the name of the university incorrectly will result in the Post Office rejecting the mailing or sending it at standard mail prices.
The change in the university's name was first announced in a Jan. 12 memo from President Bruce Benson. UCCS Chancellor Pam Shockley-Zalabak sent her own campus memo Jan. 27 and Martin Wood, vice chancellor, University Advancement, led a campus forum Feb. 15.
"It's important that the name of the university be correct and be used consistently," Wood said. "We appreciate the Post Office allowing us this time to transition and encourage departments to take advantage of it by using existing supplies and ensuring that new mailings bear the correct name of the university."
The Post Office decision does not affect items sent in first-class mail using envelopes, according to Larry Lawrence, coordinator, Mail and Shipping Services. Campus departments are encouraged to use existing stationery supplies and to embrace the preposition-less name of the university when ordering new stock.
Still, the transition is difficult for many. Microsoft Word indicates University of Colorado Colorado Springs as a misspelling, the result of repetition of Colorado. Others simply find it difficult to change patterns in place for five, 10, 20 or more years. Solutions include the low-tech sticky note on a computer monitor to slightly more sophisticated efforts such as programming Word to recognize the new spelling and thereby eliminating irritating red highlights.
For more information about the CU branding effort and the loss of prepositions at all CU campuses, visit www.cu.edu/brand. UCCS-specific information is available at www.uccs.edu/brand.