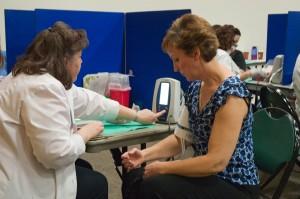 Gayanne Scott does not remember why she donated her first pint of O-negative blood.
But after donating her 48th pint Tuesday – the equivalent of six gallons – the executive director of resource management has a pretty good idea why she takes time to donate every year. For her efforts, Memorial Hospital staff members presented her with a pin. But jewelry was not the motivator for the longtime UCCS financial resource manager.
"I'm a busy person," Gayanne Scott said. "This is my way of giving back to the community. It's simple. It's easy. And it makes a big difference."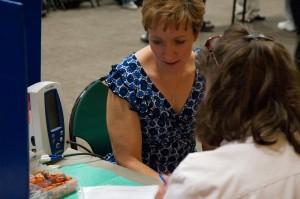 Hearing personal stories of how someone's life was saved as the result of a blood donation, or that one pint of her blood could help six newborns, motivates the mother of two to roll up her sleeve for every campus blood drive.
"I'm healthy and my kids were born healthy," Gayanne Scott said. "I know how lucky I am and am glad to be able to help someone else."
Assisting with the blood donation drives is a tradition for the budget and accounting offices. Former supervisor  Juan Garcia used to dress up as Count Dracula for Halloween-themed drives and Gayanne Scott was chair or co-chair of the drive from 1996 to 2003. S
he passed the responsibility to other members of the Resource Management Division including Julie Brewster, controller; Brad Bailey, accountant; and Suzanne Scott, budget operations manager.
The tradition seems to be working.
Tuesday's blood drive, conducted in partnership with the Health Fair, resulted in 117 units collected, a record. About 25 people were turned away as the drive concluded. The Health Fair drew an estimated 500 participants and 50 vendors, according to Stephanie Hanenberg, director, Student Health Center.
But never one to rest on laurels, drive co-chairs Gayanne Scott and Brewster hope to break the donation record soon. A first-ever three-day campus blood drive is scheduled for Oct. 25-27.
For more information on blood donation, visit the Memorial Health System Blood Donation page.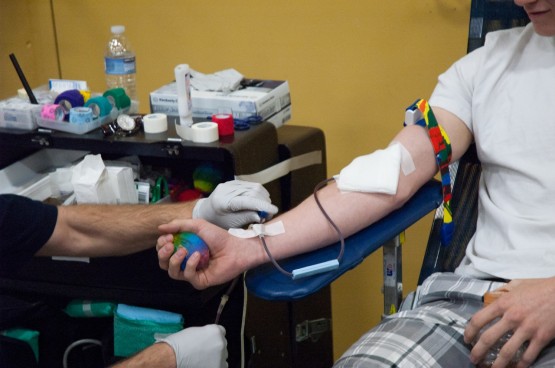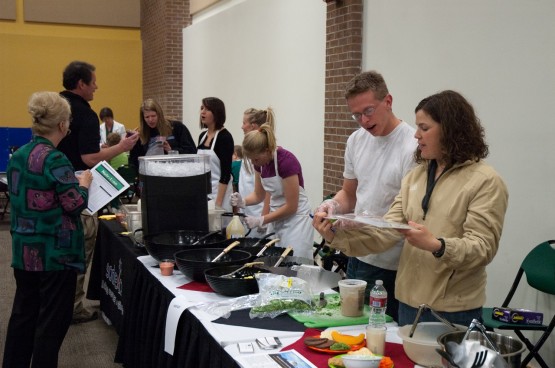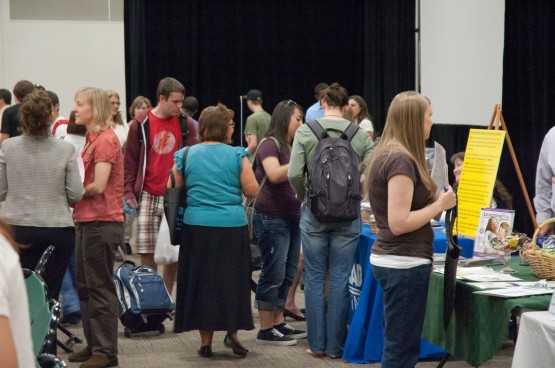 — Photos by Jeff Foster, University Advancement