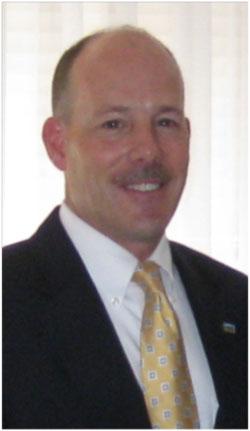 A lawyer who served as the senior legal advisor to the commander of the North American Aerospace Defense Command and U.S. Northern Command is the new associate director of the Center for Homeland Security at the University of Colorado at Colorado Springs.
Kurt A. Johnson, Colorado Springs, joined the Center for Homeland Security July 1. His selection was announced by Michael B. Perini, executive director, National Institute of Science, Space and Security Centers, at UCCS.
"Kurt Johnson brings to UCCS more than 23 years experience in our nation's armed forces," Perini said. "His worldwide expertise in homeland defense and homeland security, coupled with his unique understanding of domestic and international law, adds a new dimension to the Center for Homeland Security."
From 2005 to 2008, Johnson served as staff judge advocate for NORAD and USNORTHCOM, encountering some of the most challenging legal and policy issues in the Department of Defense, particularly in the wake of Hurricane Katrina. He retired from the U.S. Navy in 2008 as captain, having served worldwide primarily as an advisor to U.S. military commanders. From 2001 to 2003, he was the senior U.S. Navy/U.S. Marine Corps legal advisor to the top naval commander in the Middle East during Operations Enduring Freedom and Iraqi Freedom.
Johnson earned a juris doctorate from the University of Wisconsin and a master of laws in international law from the University of Virginia. He earned a bachelor's degree from the University of Wisconsin.
NISSSC incorporates four research and teaching oriented centers including the Center for Homeland Security, the Trauma, Health and Hazards Center, the Center for Space Studies, and the Center for Science, Technology, Engineering and Mathematics Education. The Center for Homeland Security delivers advanced education, conducts leading-edge basic and applied research, and creates and sustains networks that lead to innovative homeland security and defense discoveries. As associate director, Johnson will oversee homeland security and homeland defense initiatives with federal, state and local governments, and the private sector.
UCCS, located on Austin Bluffs Parkway in Colorado Springs, is one of the fastest growing universities in the nation. The University offers 30 bachelor's degrees, 19 master's, and five doctoral degrees. The campus enrolls about 8,000 students annually.