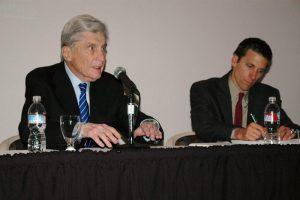 It was a wistful John Warner, one of the nation's foremost politicians and Washington pugilists, who visited UCCS Tuesday to talk about climate change and the importance of making it a national priority.
"Folks, it was one of the saddest days of my life," Warner, a five-term Republican senator from Virginia said , following a story about revisiting an Idaho forest where he worked as a teen. "Those magnificent forests that I had worked in were gone – they were dead, consumed by the bark beetle. The streams were virtually down to a trickle. It's all gone, nothing for me to take the grandchildren back to. I kind of ran a mental calculation, and thought old boy you'd better figure out what you might do with the remaining time you have to get something done."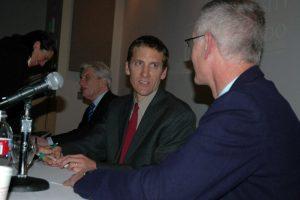 Warner, 83, is a veteran of WWII and was secretary of the U.S. Navy before beginning a political career that spanned from 1979 to 2009. He joined Phyllis Cuttino, U.S. director of global warming, Pew Environment Group, Jim Pocock, professor of civil and environmental engineering, U.S. Air Force Academy, and David Havlick, assistant professor, Geography and Environmental Studies, in a panel discussion about climate change before a small group in the University Center Theater. Earlier in the day, Warner emphasized that climate change affects national security, as well as men and women in the armed forces, at the United States Air Force Academy.
The aging senator is traveling the country to raise awareness about climate change and its importance as part of national policy, using personal example to highlight the importance of the issue. Bark beetles that are destroying trees throughout the West are considered an effect of global warming. Warmer winters allow the bugs to survive and upset the natural ecosystem.
There were plenty of other examples of changes cited. Havlick talked about lower snowpack levels which will cause more water runoff in Colorado and end the ski industry, rising sea levels, and the disappearance of national monuments.
"There are virtually no glaciers left in Glacier National Park," Havlick said, showing pictures from 1932 and 2005 to illustrate the change. "We risk losing the Everglades in Florida and Ellis Island in New York to rising sea levels."
Warner called the scientific evidence of global warming "conclusive" and said that it was now time for the United States to take action, encouraging participation in upcoming climate control discussions in Copenhagen and for action at the federal level. He encouraged Congress to develop a framework to guide America or, if Congress is unable, for the president to exercise executive powers through the Environmental Protection Agency.
"It's a big steep hill to climb but if we don't climb it, we're going to let our own environment here in America deteriorate," Warner said before encouraging the audience to contact their representatives in Washington to encourage action.