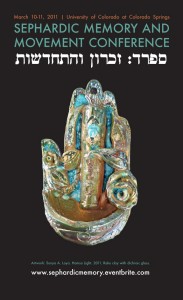 The historic contributions of Jews to the American Southwest, including Colorado, will be the subject of a two-day conference at UCCS March 10 and 11.
The Sephardic Memory and Movement Conference will highlight the history of Sephardic Jews, a sect of Judaism that traces its roots to Spain. Following their expulsion from Spain, many Sephardic Jews found their way to many other countries, including the settlement of the southwestern United States, Latin America and North Africa.
During the fourteenth and fifteenth centuries in Spain and Portugal, Christian intolerance of Jews reached catastrophic proportions and led to the death, conversion, or exile of several hundred thousand Spanish and Portuguese Jews. While some freely chose to convert to Catholicism, others chose conversion as a means of survival and many continued to practice Judaism covertly, passing down their Jewish identity from generation to generation. Those who chose exile fled first to the Ottoman Empire and New Spain (Mexico) and later to other parts of the Spanish colonial empire including areas now known as New Mexico, Colorado and Arizona.
Local and international experts will share information about the contributions of Sephardic Jews including music and art. Discussions of contemporary issues such as Latino and Jewish relations in Colorado are also planned.
"Prior to their expulsion from Spain in 1492, Sephardic Jews had tremendous cultural, religious intellectual and political influence in the Iberian Peninsula. In fact, many Jewish noble families that chose conversion would even serve as bishops in the Catholic Church and as key royal advisors during the 15th century," Roger Martinez, assistant professor, History, and conference organizer, said. "Other Jewish families that remained dedicated to their faith did not fare well, but even though the Edict of Expulsion forced Jews to flee or convert, it did not eliminate their culture. Instead Jewish identity morphed and concealed itself both in Spain and the New World. Resolutely, over the course of several hundred years they retained their faith as crypto-Jews and their descendents now live among us in New Mexico and southern Colorado."
Martinez will offer opening remarks and a brief introduction to the conference beginning at 6 p.m. March 10 at the Kraemer Family Library. A panel discussion about contemporary Latino and Jewish relations in Colorado will follow and will be led by Seth Ward, a lecturer in Islamic and Judaic studies at the University of Wyoming.
At 7:30 p.m. in the Centennial Hall Auditorium, a musical performance by Vanessa Paloma, Casablanca, Morocco, and the UCCS Department of Music is planned. Paloma will perform medieval Sephardic music. She will also be accompanied by Abe Minzer, instructor, Department of Music.
See a video of Paloma below.
(http://www.youtube.com/watch?v=IYSvWsr75DM)
Friday will feature a full day of activities at the Lodge highlighted by a 12:30 p.m. address by Seth Kunin, author of "Juggling Identities: Identity and Authenticity Among the Crypto Jews" and pro-vice chancellor for Arts and Humanities at the University of Durham, England.
An interview with Kunin is available at http://www.cup.columbia.edu/static/kunin-interview.
All events are open to campus and greater Colorado Springs community members. A full list of presentations and registration information is available at http://sephardicmemory.eventbrite.com.
Funding for the event was provided by the CU President's Fund for the Humanities and the Diversity and Excellence grants.