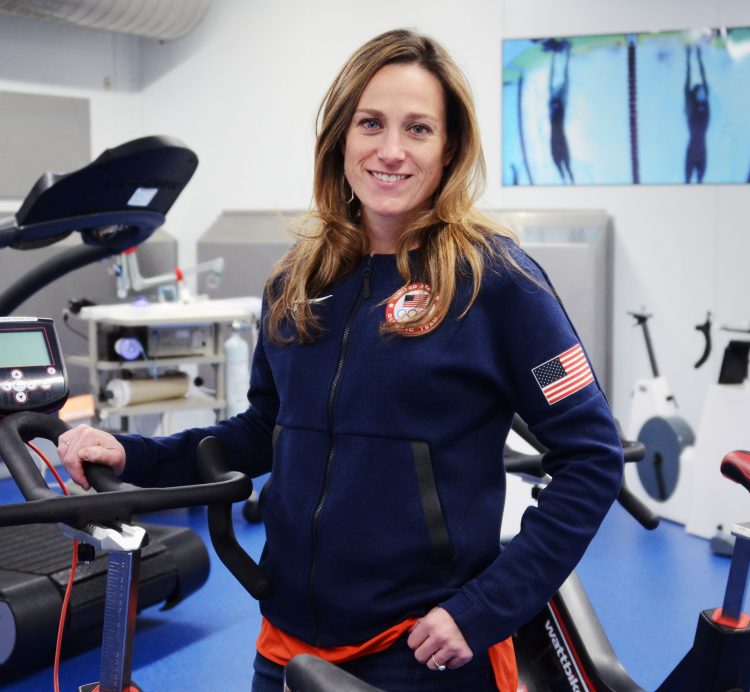 At just 15-years-old, a young Lindsay Hyman set her sights on her dream career. Although she had been a serious athlete, a visit to a junior triathlon training camp changed her life forever.
It was at that camp, working with trainers who honed her competitive edge, that Lindsay realized she was destined to become a coach.
"I was in awe that the coaches could tell me how to execute and become better, having only worked with me a few hours."
The experience made an impression that would last a lifetime, sending her back to her native Colorado to embark upon a journey to achieve her dream career.
Although she began her schooling in New York, Lindsay knew she needed a graduate degree to break into her field of choice. For Lindsay, UCCS was the right choice, leading her to apply for the graduate level exercise science program.
According to Lindsay, the program challenged her academically, but she met every hurdle with motivation derived from hands-on learning.
"There's a lot more hands-on learning and applying what you've learned in the classroom. Working with endurance athletes was where I came from, so it was a good fit."
Lindsay pointed to UCCS faculty and staff, who motivated her and provided critical feedback, as major players in her current success. Jeffrey Broker and Andy Subudhi, her faculty advisors, helped her along the way with challenges and support, preparing her to interview for what she described as her dream job.
In 2014, Lindsay graduated from UCCS with a master of science in exercise science. Soon after, she walked into the offices of the U.S. Olympic Training Center in Colorado Springs.
"My final project was the big win in my USOC interview," Lindsay said, recalling the undertaking in which she used performance modeling software to track athletes over a year of quantified training.
Her preparations made the interview a success; the USOTC offered her a position as a sports physiologist. Now, she works with athletes daily on improving their health and overall performance. Despite her schedule, she still finds time to partner with UCCS.
"We always want to collaborate from the sports physiology view."
Lindsay still connects with Dr. Subudhi frequently and creates partnerships between the USOTC and UCCS whenever she can. Recently, that entailed bringing the USA trampoline team to UCCS for evaluation of the training process.
Lindsay's next challenge is the 2020 Summer Olympics, but she is excitedly anticipating 2028 when the Olympics return to the United States.
###
–By Nancy Moore. This article original appeared in the "Achieve – UCCS Success Stories" publication.