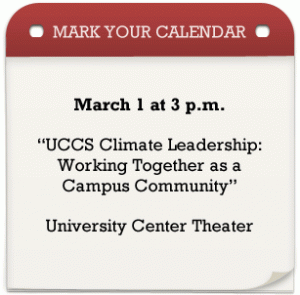 The campus Climate Action Committee will present "UCCS Climate Leadership: Working Together as a Campus Community," at 3 p.m. March 1 in the University Center Theater.
The rescheduled all-campus forum, will present an overview of campus efforts to reduce human climate change effects.
A reception, sponsored by Auxiliary Services, will immediately follow the forum in UC 116 and will feature locally grown foods.
The Climate Action Committee consists of UCCS administrators and students working together to develop a comprehensive plan to reduce university energy use and carbon emissions.
Incorporating sustainability and climate themes into the curriculum is an initial step, according to Linda Kogan, director, Office of Sustainability. She suggests practicing resource conservation, reducing waste, recycling and continuous education.
Chancellor Pam Shockley-Zalabak was among the first to sign the American College and University Presidents Climate Commitment in 2007, said Peg Bacon, provost, and committee member.
"This proactive commitment put UCCS in a leadership position to minimize our climate impacts and to prepare our students for an increasingly challenging era," Bacon said. "Everyone on the campus has a role to play in this significant and timely commitment."
She urged the campus community to attend the forum to learn more about committee goals, some of its successes, and how individuals can do to help.