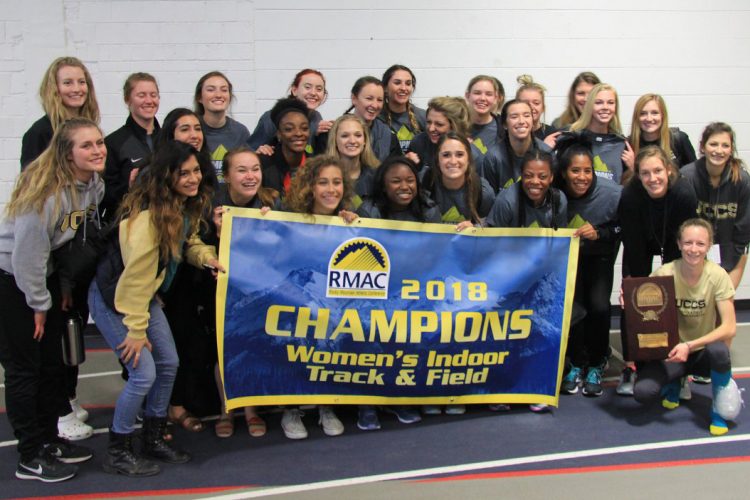 In its second year since a full track and field team returned to UCCS and while an on-campus facility is under construction, the UCCS women's program won its first Rocky Mountain Athletic Conference indoor championship Feb. 24 at Steinhauer Fieldhouse on the campus of Colorado School of Mines in Golden, Colorado.
The Mountain Lions won by a one-point margin, 118 to 117, against Western State Colorado University. UCCS was ahead by three points going into the final event, the 4×400-meter relay, and needed to finish no worse than one position behind the Mountaineers to secure the victory. After Kaija Crowe led off the relay, a fall between multiple runners during the exchange put the Mountain Lions in fourth with Western State in first. Molly Klotz, Dejah Glover and Skylyn Webb passed two teams in the final three sections for a second-place finish in 3 minutes, 56.25, one spot behind Western.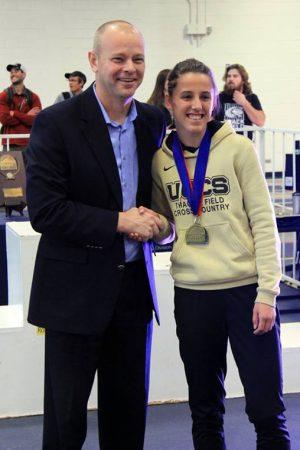 Crowe won two individual conference championships in the pentathlon with 3,604 points and in the high jump with 5 feet, 5 inches, both season-bests for her this season. She also finished second in the long jump with 19 feet, 3 1/4 inches. She added team points in the 60-meter hurdles and triple jump, and with 37 points was named the RMAC Women's Athlete of the Meet.
Webb was the champion in the 800-meter run with 2 minutes, 12.36 seconds and the runner-up in the 400-meter dash with 56.57 seconds. She has the fastest 800 time in Division II this season with an adjusted 2 minutes, 5.49 seconds from Feb. 9. Klotz joined Jalen Jordan, Layla Alamsri and Kayla Wooten on the runner-up distance medley relay. Kayla Zink finished second in the 60-meter dash with 7.58 seconds.
The UCCS men's team finished as the runner-up with 90.5 points behind champion Mines. The 4×400-meter relay team of Chris Smith, Zaccre Kenward, Will Mayhew and Caleb Simons won by .14 seconds against Mines, and Will Ross repeated as the triple jump champion with 48 feet, 6 3/4 inches.
The UCCS women's previous best conference finish was fifth at the 2008 championships. The title marked No. 22 for all sports in UCCS history and it was the second this academic year after women's soccer won the 2017 tournament.
The Mountain Lions will learn who qualified for nationals with the announcement is made Feb. 27. The 2018 NCAA Division II Track & Field Championships take place March 9-10 at the Robert W. Plaster Center at Pittsburg State University in Pittsburg, Kansas.