Gov. John Hickenlooper's budget proposal to the Joint Budget Committee of the Colorado General Assembly is a long way from reality, Chancellor Pam Shockley-Zalabak and Brian Burnett, vice chancellor, Administration and Finance, told the members of the University Budget Advisory Committee Thursday.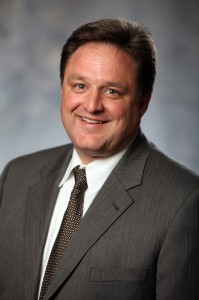 "The budget picture for UCCS will become more clear in the next several weeks," Burnett said. "The governor's recommendation is very early in the process."
Burnett explained that the governor's budget is a recommendation to the Joint Budget Committee, a bi-partisan group of state legislators who make recommendations to the entire Colorado General Assembly. The members of the Joint Budget Committee will complete budget figures and begin setting budgets for the 2011-12 fiscal year (which begins July 1, 2010) by mid-March based on the most current revenue forecasts. In late March or early April, an appropriations bill will be introduced in the Colorado House that takes into account multiple efforts to balance the state's budget, including changes to retirement plans, fees, taxes, and proposed spending cuts. The final appropriations bill must be approved by both houses of the General Assembly, the House and the Senate.
Much of the UBAC discussion was focused on a proposal by Governor Hickenlooper to increase employee contributions to the Colorado Public Employees Retirement Association. The 4.5 percent shift would save the state an estimated $15.7 million but would place a higher burden on public employees ranging from many university staff to corrections and state transportation workers, Burnett said. He predicted that recommendation, as well as a recommendation of a third year of no salary increase for state employees, will be widely debated.
"Governor Hickenlooper's support of public higher education is apparent," Burnett said. "But his budget plan rests on cooperation and approval by the General Assembly, the business community, and many other constituencies across the state who may view the plan as unworkable."
Campus forums are scheduled for late March that explain the actions of the General Assembly and the effect on UCCS budgets. Faculty and staff are encouraged to attend one of the forums.
The forum schedule is:
3:15 p.m. March 28, Columbine Hall Room 136
11 a.m. March 29, Centennial Hall 203
3 p.m. March 30, University Hall 109
2:30 p.m., April 1, University Center 302
To see the CU System Newsletter account of activities in the Colorado General Assembly, click here
To see Hickenlooper's letter to the Joint Budget Committee PDF, click here
To see Hickenlooper's detailed proposal to balance the budget PDF, click here
Hickenlooper's letter to state employees appears below.
Feb. 15, 2011
Dear State Employees,
Today, we submitted the difficult and painful, but ultimately necessary, changes to the FY 2010-11 and FY 2011-12 Executive budget requests. The cuts included in the budget were made necessary by the dramatic economic downturn that has impacted all Colorado communities and diminished State revenues.
As any family or business knows, the checkbook must be balanced and we can spend only the money we have. The same is true for the state of Colorado as we begin on the hard road to fiscal balance.
Our budget package reduces expenses across state government, including reductions to K-12 education, higher education, Medicaid and human services. We also proposed closing a state prison, repurposing four state parks, reducing local grants and restoring a 4 percent budget reserve – which is approximately 14 days of operating funds and significantly less than is recommended for financial stability.
Make no mistake, the choices we are making today will hurt.
You also will feel the changes in this budget, as impacts to the state's workforce were unavoidable. In addition to the across-the-board personal services or operating cuts, we are proposing an additional 2 percent employee contribution for the Public Employees' Retirement Association and a commensurate decrease in the State's contribution. This is the most equitable way for all Employees to help balance the state's budget.
We opted not to include any furlough days in the next fiscal year. We also didn't include raises for state Employees. We realize your take-home pay is decreasing, and we will work hard to find ways to provide increases to your compensation when the economic conditions allow for that to happen.
Today's budget balancing plan is about tough choices and sustainability. We are taking difficult steps now to ensure that Colorado's budget is on a sustainable path, which is critical as we seek to achieve both short-term and long-term economic growth.
Unfortunately, we are not out of the woods yet. As we look ahead to Fiscal Year 2012-13, we will face more difficult choices and need to cut spending more. However, we are committed to using this difficult time as a chance to re-evaluate what we do and how we do it.
We will identify new ways to make Government work better and cheaper. We will find ways to eliminate waste and duplication. We will cut red tape and achieve efficiencies. You can help us.
We want to hear from you because we know the best ideas can come from those closest to the action. You can send us suggestions by going to www.colorado.gov/governor. That's where you can also find more information about the state budget changes submitted today, as well as information about our Bottom-up Economic Development plan. We invite you to get involved in the state's economic development efforts.
Thank you for serving the people of Colorado. We look forward to working with you as we move our state toward greater economic prosperity.
Sincerely,
John