With the occasional clink of a bottle or the "Eeeeewww" of a discovery destined for the compost pile, UCCS students joined with the Office of Sustainability Wednesday to learn first-hand how much of what ends up in trash bins could have been recycled.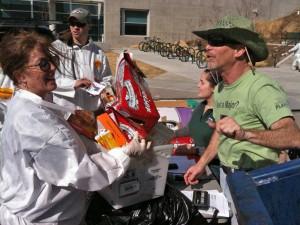 After donning disposable bio-hazard suits and while battling stiff breezes, more than 30 students and a few faculty and staff dove into one day's worth of trash collected by Facilities Services. Two large separate trash piles were deposited on El Pomar Plaza, one  from student housing, the rest from other campus buildings. Soon, they were pawing through discards that ranged from wilted Valentine's Day flowers to empty soda cans, a peppermint schnapps bottle and even a black and white film canister or two.
The discoveries often prompted questions as the students learned that even trash has a value.
"What do you think, should we play it?" a volunteer asked Kevin Gilford, office manager, Office of Sustainability, of the homemade mix CD she found.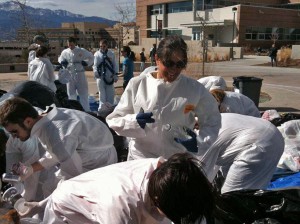 Gilford opted to pass on the music, instead encouraging the volunteer to add the CD case to the plastics recycle bin where it joined an assortment of soda bottles, coffee cup lids and other materials easily recycled and diverted from a waste stream that fills acres of landfills every year.
The efforts were part of an eight-week national competition on college campuses, RecycleMania, to encourage students, faculty and staff to recycle. According to Linda Kogan, director, Office of Sustainability, UCCS had a 27 percent recycling rate last year. The office hopes to increase recycling through education and introduction of the topic in Freshman Orientation.
For three hours Wednesday, campus community members joined Gilford and Kogan in the experiment and to see if UCCS had improved on last year's efforts where more than 50 percent of trash could have been recycled.
Preliminary results indicate that roughly 35 percent of the trash could have been recycled from this year's event, Kogan said. Items not being recycled include plastic water bottles, aluminum cans, and all forms of paper.
"Recycling is one of the easiest choices that an individual can make to reduce our environmental impact. Trash in a landfill creates methane which is a much more potent greenhouse gas than carbon dioxide. Recycling contributes to lowering our carbon footprint."Kogan said,
To learn more about what can be recycled at UCCS and how to reduce your environmental impact, visit www.uccs.edu/sustain.
— Photos by Tom Hutton and Kevin Gilford