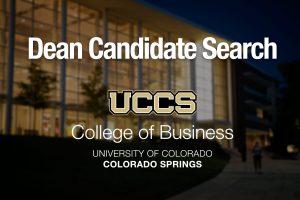 Two candidates for the position of dean of the College of Business will make campus presentations Nov. 6 and Nov. 10. A third candidate presented Nov. 2.
George Reed, dean, School of Public Affairs, announced the finalists and their schedules. Reed chairs a 12-member search committee charged with assisting in the selection of a replacement for Venkat Reddy who served as dean for 13 years before becoming interim chancellor in February and chancellor in May.
The finalists will present for 40 minutes with 20 minutes allotted for questions from the audience.
The finalists and their presentation times and locations are:
Stephen Ferris, 9 a.m. Nov 6, University Center 116. Ferris is the J.H. Rogers Chair of Money, Credit and Banking at the University of Missouri, Columbia. He is also director of the Financial Research Institute. See Ferris' vita
George Low, 9 a.m. Nov. 10, Kramer Family Library third floor apse. Low is dean and professor of marketing at Radford University, Radford, Virginia. See Low's vita
Eric Olson, interim dean, College of Business, made a public presentation at the Kraemer Family Library Nov. 2. See Olson's vita
Faculty and staff are encouraged to attend candidate forums and provide feedback (docx).
In addition to Reed, members of the search committee are:
Britt Anderson, executive assistant to the dean, College of Business
Diane Belger, instructor, College of Business
Jill Bradley-Geist, assistant professor, College of Business
Ariadna Coffman, outreach specialist, Admissions Services
Andrew Czaplewski, professor, College of Business
Tracy Gonzalez-Padron, associate professor and director, Daniels Ethics Initiative, College of Business
Gary Klein, professor, College of Business
Becky Medved, Colorado Springs, a College of Business alumna and member of the college advisory board
Morgan Shepherd, professor, College of Business
Nicole Tugg, assistant director, Development Office
Don Warrick, professor, College of Business
Kara Carragher, business and human resources professional, College of Business, supports the committee.