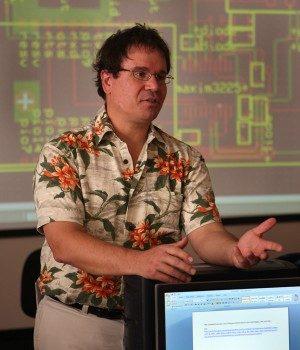 Terrance Boult, El Pomar Endowed Chair of Innovation and Security, was recently named a 2017 Institute of Electrical and Electronics Engineers Fellow in recognition of his contribution to the fields of biometrics and computer vision.
IEEE Fellows are nominated by peers for contributions "to the advancement or application of engineering, science and technology, bringing the realization of significant value to society.
R. "Dan" Dandapani, dean, College of Engineering and Applied Science, said:
"Dr. Boult's selection for this prestigious distinction attests to his extraordinary accomplishments in the engineering field, and also affirms the high quality of our faculty. This year there were only 300 IEEE fellows selected, and the total number selected in any one year does not exceed one-tenth of one percent of the total voting IEEE Institute membership. Best of all, our students benefit from Dr. Boult's accomplishments which enhances their overall educational experience."
Boult is the second IEEE Fellow in the College of Engineering and Applied Science. Carlos Araujo, professor, College of Engineering, earned the honor in 2012.
— Sue McClernan, College of Engineering and Applied Science