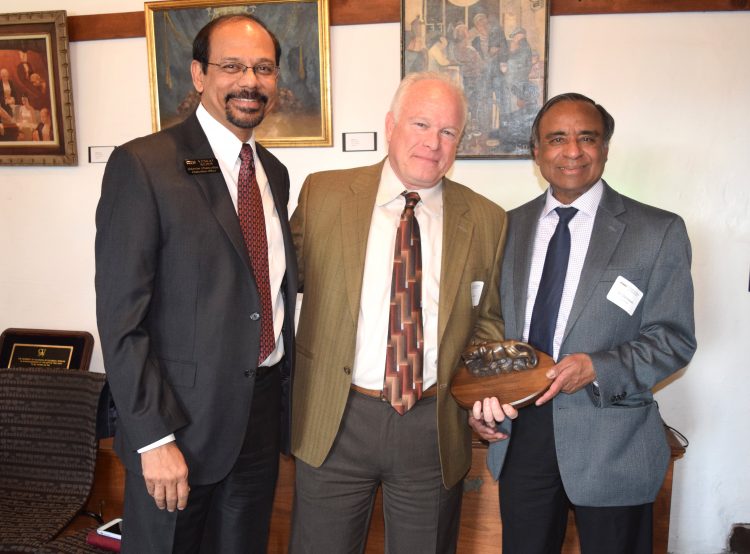 Representatives from Bal Seal Engineering  visited campus April 5 to accept an award on behalf of the company's founder who surpassed $1 million in cumulative charitable giving to UCCS.
The Balsells Foundation, the philanthropic arm of  California-based Bal Seal Engineering Inc., annually supports the travel, tuition, room and board for UCCS engineering students who hail from Catalonia, the homeland of company founder Peter Balsells. The Balsells Graduate Fellowship Program provides the opportunity for students in the Catalonia region of Spain to complete their master's degree at the College of Engineering and Applied Science. Similar programs exist at CU Boulder and the University of California, Irvine.
This generosity, which now sits at $1.374 million to UCCS with recent gifts, enters Balsells into the Main Hall Society, a distinguished group of donors who provided $1 million or more in support to the university over their lifetimes.
Balsells and his late wife, Joan, are both 1952 engineering graduates of CU Boulder. In 1958, the couple started the Bal Seal Engineering Company, which has grown to be a global provider of custom-engineered sealing, connecting, conducting and shielding/grounding solutions with offices in Colorado Springs, Amsterdam, Czech Republic, Germany, the United Kingdom and Hong Kong.
During a ceremony at the Heller Center for Arts and Humanities, Venkat Reddy, interim chancellor, and Martin Wood, senior vice chancellor, University Advancement, presented a bronze replica of the iconic white marble mountain lion statue located on El Pomar Plaza. Bal Seal President and CEO Rick Dawson accepted the Mountain Lion award, along with Eric Yarbrough and Patsy Montoya, on behalf of the Balsells. UCCS Balsells Fellows were also present.
"This is a very special day as we celebrate the commitment of an individual who so believes in his home country and its people, as well as the power of higher education," said
R. "Dan" Dandapani, dean, College of Engineering and Applied Science. "When Mr. Balsells built his company in the United States, he was determined that those values would be part of the fabric of Bal Seals Engineering. Mr. Balsells and the Balsells Foundation are the reason so many students have been able to become part of the UCCS story."
— Melanie Sidwell, CU Advancement