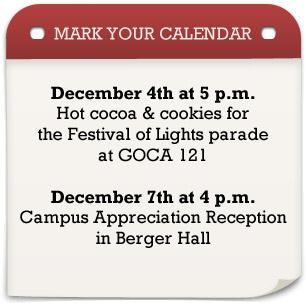 Faculty and staff should mark calendars in anticipation of annual campus holiday festivities on campus and in the community Dec. 4 and 7.
At 4 p.m. Dec. 7 at Berger Hall, the annual Campus Appreciation Reception is planned. Chancellor Pam Shockley-Zalabak will provide beverages served at the event and Sodexo will provide heavy hors d'oeuvres.
Attendance confirmation by Dec. 1 is requested. Please visit http://www.uccs.edu/~rsvp/.
As part of the festivities, a cookie exchange and contest is planned with awards for taste, appearance, good intentions, and winter theme. Faculty and staff are also encouraged to donate a new or good condition used book to support the Literacy on the Go project coordinated by Barbara Swaby, professor, Education.  Books for pre-school children to grade 3 are requested. LOGO distributes books to low-income families in the region.
At 5 p.m. on Dec. 4, the UCCS Alumni and Friends Association will provide hot cocoa, cookies and a good vantage point to watch the 26th Annual Festival of Lights parade at GOCA 121 at 121 S. Tejon in downtown Colorado Springs. Parking in the Plaza of the Rockies garage will be free of charge.
Faculty and staff interested in attending should call 255-3637 or send email to [email protected].