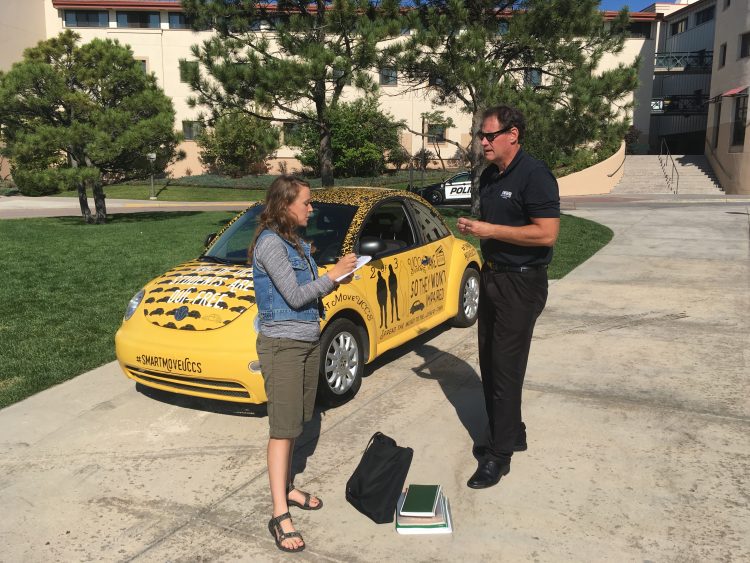 The statistics-laden yellow VW Bug on the West Lawn Wednesday morning was not a ploy for increased math class enrollment or used car sales.
Instead, the late-model-cute 60's-counter-culture-cool car signified a dramatic change in the way UCCS will educate students about alcohol abuse and impaired driving.
In place of mangled sheet metal and tragic stories about loss of life or limb, the yellow Bug brags that two out of three UCCS students don't drive while impaired and that only 1 percent received a driving under the influence citation. The underlying message: Spread the word about the positive choices students are making.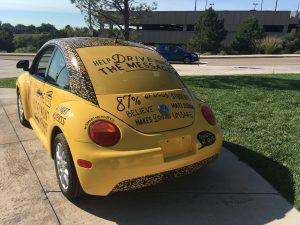 The shift is part of a new campaign led by the Office of the Dean of Students with assistance from a Denver-based marketing firm. Paid for by grants managed by the Persistent Drunk Driver Committee through the Colorado Office of Behavioral Health, the campaign uses media to get its point across. The Bug is a mobile billboard. Similar messages will be displayed on everything from posters to wallet cards and social media (#SmartMoveUCCS) throughout the next two years.
Smart Move UCCS seeks to use media messages to close gaps between self-reported data about risky behavior and what students perceive others are doing, according to Amanda Allee, director of student and judicial affairs, Dean of Students Office. That simply means students perceive their peers drink more than they report doing themselves – a gap that can lead to a culture where excessive drinking is accepted. Instead of focusing on risk aversion and zero consumption – a constant of alcohol education programs for 75 years – the new campaign focuses on moderation and avoiding the dangers that come with binge drinking or high rates of alcohol consumption. The first phase will focus on impaired driving.
"We know that alcohol remains the most widely abused drug in our country and on our campus," Steve Linhart, dean of students, said. "We also know that messages focusing solely on 'don't drink' are not very effective. That's why we've embraced a concept of alcohol education that points out that most UCCS students are responsible. Being responsible is what UCCS Mountain Lions do."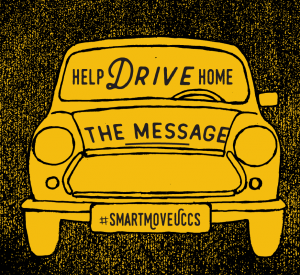 Positive social norming is the theory that underlies the campaign. Social norming relies on statistics and research to support its media messaging. Last spring, UCCS students were surveyed about alcohol use and risky behaviors. A cross section of campus undergraduate students participated and their responses formed messages such as "3 of 4 students take action to stop friends from driving impaired" and "99 percent of UCCS students are DUI free." Students will be surveyed annually to gauge the effectiveness of the messages and mediums used to convey it.
Those slogans are combined with data about how much a DUI can cost financially, what constitutes a drink, and the number of drinks consumed in an hour that can make someone legally intoxicated.
UCCS is not unique in adopting positive social norming as the basis for its efforts. The University of Northern Illinois pioneered the effort more than 25 years ago and campaigns have been successfully undertaken at universities, large and small, public and private across the country. Many have reported dramatic reductions in binge drinking. In Colorado,  Colorado State University Pueblo, the  University of Northern Colorado and Western State University conducted positive social media campaigns using grant funds from the Persistent Drunk Driver Committee of Colorado.
For more information on social norming, visit the National Social Norms center at Michigan State University http://socialnorms.org/ or contact the Office of the Dean of Students, (719) 255-3091.
— Photos by Tom Hutton