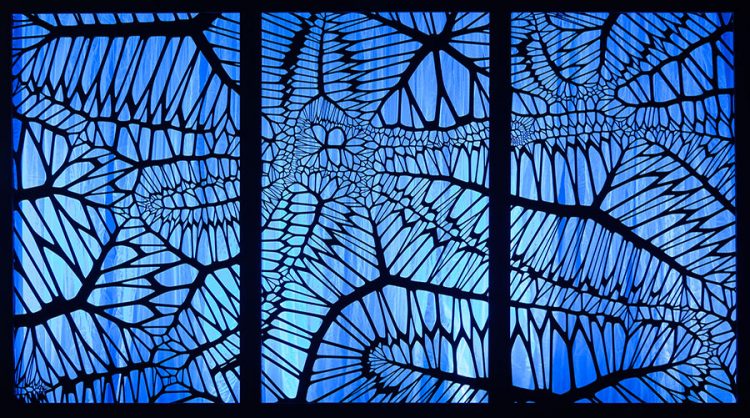 Artist collaborations, performance art, interactive light and sound sculpture, a Black Power Tarot deck exhibit with live tarot readings, film screenings and more will be part of the 2016-17 season for the Galleries of Contemporary Art.
GOCA's season launches Aug. 5 with "Girl Crush" with Denver-based artists and collaborators Amber Cobb and Laura Shill taking over the downtown GOCA121 gallery with sculptural environments that invite visitor interaction.
The UCCS campus gallery site – GOCA 1420 – will open with an interactive light and sound art installation "Live Wire" by artist, composer, programmer, inventor and teacher Michael Theodore on Sept. 9.
The biannual UCCS Visual Art Faculty exhibit will highlight dynamic artists teaching in the VAPA program in October. A collaborative effort with UCCS Theatre & Dance will bring renowned theater/performance artists 600 Highwaymen to GOCA's campus site for an artistic residency culminating in public performances in December.
The Black Power Tarot exhibit featuring artwork depicting 26 African-American icons created by musician King Khan, filmmaker Alejandro Jodorowsky, and Game of Thrones artist Michael James Eaton includes a film screening of "The Invaders" documentary and live tarot readings in the GOCA121 gallery, January – March 2017.
Monumental fiber installations by Claudia Mastrobuono, Sonya Yong James and Jodi Stevens will fill the campus gallery during the first quarter of 2017.
"Cybercy," an exhibit collaboratively curated by UCCS student Caitlin Goebel and GOCA director Daisy McGowan will investigate what it means to be human in the post-Internet age through the work of Los Angelese-based Finishing School Collective & Yucef Merhi (Psychic Barber), Christopher Coleman & Laleh Mehran (W3FI), and Signe Pierce & Allie Coates (American Reflexxx).
Gallery hours for both gallery sites are noon-5 p.m. Wednesdays through Saturdays, or by appointment.
GOCA's season runs through June 2017.
Full 2016- 2017 Exhibition Schedule
Girl Crush / Amber Cobb & Laura Shill
Aug. 5 – Sept. 24| GOCA 121
micro/macro | Michael Theodore
Sept. 9 – Nov. 19 | GOCA 1420
UCCS Visual Arts Faculty Show / Matt Barton, Corey Drieth, Marina Eckler Pauline Foss, Abbey Hepner, Nikki Pike, Stacy Platt & Claire Rau
Oct. 7 – Dec. 10 | GOCA 121
600 Highwaymen / The Fever – collaboration with UCCS Theatre & Dance
Dec. 5 – 17 | GOCA 1420
These Things are Tangible / Claudia Mastrobuono, Sonya Yong James, & Jodi Stevens
Jan. 27 – March 13, 2017 | GOCA 1420
Black Power Tarot / King Khan, Alejandro Jodorowsky, & Michael Eaton
Jan. 13 – April 1, 2017 | GOCA 121
Cybercy/Finishing School with Yucef Merhi, Christopher Coleman & Laleh Mehran, Signe Pierce, & Allie Coates
May 5 – June 24, 2017 | GOCA 121
Senior Visual Art Majors Exhibit / UCCS VAPA Seniors
April 14 – May 12, 2017 | GOCA 1420
GOCA is a regional hub of contemporary art, culture and conversation. By featuring world-class artists, hosting artist and expert talks, and offering meaningful events, GOCA engages UCCS students, faculty, staff and Pikes Peak Region community members in contemporary culture and life. GOCA is a contemporary arts organization with two galleries, one founded on the UCCS campus in 1981 and a satellite downtown location that opened in 2010 in the Plaza of the Rockies building.