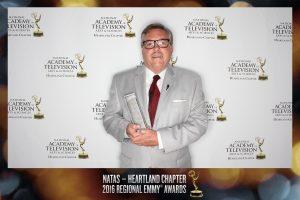 "The Bluffs," a UCCS student-produced science-fiction themed drama, recently won an Emmy Award from the National Academy of Television Arts and Sciences Heartland Chapter.
David Nelson, professor, Communication Department and faculty adviser to "The Bluffs," accepted the award during July 16 ceremonies at the Denver Center for the Performing Arts.
"The Bluffs" won in the student achievement category for long form fiction.
For a complete list of winners, including members of the student production teams, series writers and student actors, visit http://emmyawards.tv/files/2012/12/2016-Winners-List.pdf
Founded in 1947, the National Academy of Television Arts and Sciences and the Emmy Award stand for the best in the television industry. The Heartland chapter was formed in 1986 and serves the television industry in Colorado, Oklahoma, Nebraska and Kansas.
Launched in 2015, "The Bluffs" is a science-fiction themed drama set at UCCS. Three 15-minute TV-series style episodes traced the exploits of four students on campus including the mysterious disappearance of another student. In producing the episodes, students learned film and storytelling techniques including filming over three or four months while staying true to the storyline that occurred over two weeks and using a GoPro-equipped drone for campus aerial views. A new group of students will continue "The Bluffs" this year, Nelson said.
To watch "The Bluffs," start here.