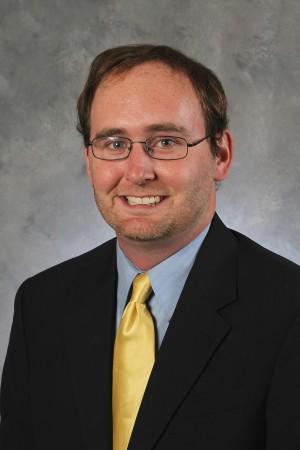 Jared Verner, assistant athletic director for sports information, Intercollegiate Athletics Department, was named the 2015-16 Rocky Mountain Athletic Conference J.W. Campbell/Con Marshall Sports Information Director of the Year June 14.
The award is voted on by the conference's 16 sports information directors. Each director provides three choices for the award and cannot vote for himself or herself.
This is Verner's first Campbell/Marshall honor. He will be presented his plaque at the 2016 RMAC Hall of Fame & Awards Banquet July 8 at the Colorado Springs Marriott.
"I'm honored and humbled to receive this honor, especially considering the quality of the sports information directors throughout the RMAC," Verner said. "I've had the honor of working with a great group of students this year, and I share this award with them."
Verner recently completed his fourth year at UCCS. He is responsible for the publicity, promotion and distribution of information for the Mountain Lions' 14 varsity programs. He's spearheaded the transition of GoMountainLions.com to a new content management system.
Verner is an active member of the College Sports Information Directors of America. He served as the regional coordinator for the Daktronics Women's Basketball All-America program conducted by the Division II Sports Information Directors of America in 2011, and the Men's Soccer All-America program since 2012.
The award is named after two RMAC Hall of Fame sports information directors. J. W. Campbell was a longtime sports information director at Western State College, now Western State Colorado University. He was also assistant to the president, an assistant professor who taught teaching seven separate disciplines and was the school's information director. Campbell co-authored two books and wrote numerous articles for magazines and trade publications. He died in March 2000 and was inducted into the RMAC Hall of Fame in July 2007.
Con Marshall spent 36 years as sports information director at Chadron State College. He was inducted into the RMAC Hall of Fame July 11, 2014. A native of Chadron, Nebraska, and a CSC graduate, Marshall's named was added to the award in 2007. He has received a 25-year award from the College Sports Information Directors of America and served on the Harlon Hill Award Selection Committee.