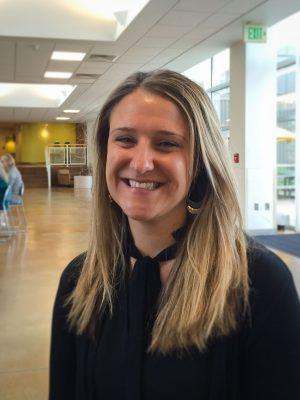 Stress is far from invisible.
Paige Whitney, an affiliate of the HealthCircle Clinics at the University of Colorado Colorado Springs Lane Center for Academic Health Sciences, sees stress when she looks at client's blood pressure numbers, the results of cognitive testing or his waistline.
But stress doesn't have to be debilitating. Whitney will share practical tips to reduce and manage stress during a 5:30 p.m. May 26 presentation at the Lane Center for Academic Health Sciences, 4863 North Nevada Ave. Her presentation, "Detain the Strain: How Physical Activity Can Reduce Work Stress and Improve Your Health" is free and open to the public as part of an ongoing series of community health lectures provided by the UCCS HealthCircle to educate the greater Colorado Springs community on common health issues. Previous lectures dealt with improving nutrition, preventing falls, and ultrasound testing.
"The gym isn't necessarily the answer for everyone," Whitney said recently. "It's important to be physically active but to do what you love and to make a commitment."
While Whitney's comments are intended to be practical tips, they are evidence-based. She recently completed a master's degree in health sciences from UCCS and previously managed a holistic health clinic in Seattle. She earned a bachelor's degree from Colorado College where she was also a student-athlete.
Whitney will be working to assess the effects of a new workplace wellness program that the UCCS HealthCircle Clinics recently began with Kirkpatrick Bank .
"Physical activity changes our physiology as well as our perception of the world around us," Whitney said. "I'll demonstrate those changes for those who attend the presentation."
In February 2014, five UCCS clinics joined to become the UCCS HealthCircle. Located in the Lane Center for Academic Health Sciences, the clinics are the UCCS Aging Center, the Peak Nutrition Clinic, the Center for Active Living, a nurse-managed Primary Care Clinic and the Veterans Health and Trauma Clinic. For more information, visit www.uccs.edu/healthcircle.