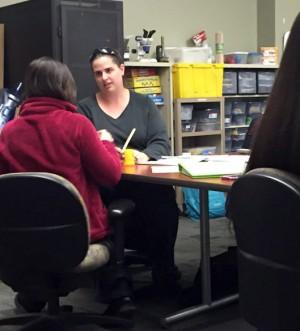 Using materials as simple as tape and index cards or as high-tech as a three-dimensional computerized printer, UCCS is working to create the next generation of engineers.
The UCCSTeach program, in cooperation with the Richard Petritz Foundation, will soon offer a curriculum for middle and high schools to teach engineering design principles. Engineering is a frequent omission from middle and high schools courses, even for those that emphasize science, technology, engineering and math curriculums.
"Relatively few schools are teaching engineering design," Tom Christensen, co-director, UCCSTeach Program, and professor, Department of Physics, said recently. "We are giving examples to future teachers for them to use in their own classrooms. Many of the examples are cheap, doable and can be modified to suit individual classroom needs."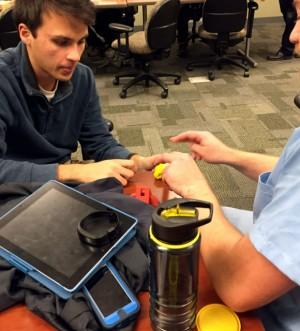 For the fall 2015 semester, consultant Ruth Catchen, working with Christensen, developed engineering design lessons and tested them in a Research Methods course for 12 undergraduate UCCS science majors interested in becoming secondary school teachers.
One exercise was the Mountain Lion tower where students were given 75 index cards and a foot of tape with instructions to build the highest structure able to support a stuffed animal. The teams of biology, chemistry and physics majors developed solutions that included cylinders created by bending cards and taping them or forgoing the tape and notching the cards to create strength. The exercise demonstrated the collaborative problem-solving mindset critical to engineering, Christensen said.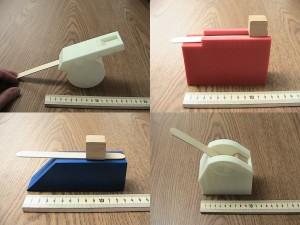 In another exercise, students used a combination of new and old technology. Using software, a three-dimensional printer and a wooden tongue depressor, the students created miniature catapults and launched one-inch square blocks. The catapults demonstrated principles of engineering and science and students got to see the results of different approaches and understand that different approaches can solve the same problem.
"These exercises represent the productive intersection between the 'makers movement' and UTeach coursework by integrating the use of 3D modeling software and 3D printing as part of the activity set for the class", said Cooper. "Combining this with engineering design was an objective of the project."
The curriculum Christensen and Catchen created will be shared at a conference in May with the goal of making it broadly available to teachers from coast to coast.
"Jeff Cooper and The Richard Petritz Foundation were uniquely qualified to work with us on this project" Christensen said. . "Jeff has decades of experience as an entrepreneur and private investor in technology-based businesses and previously was an adjunct faculty member. He was able to hit the ground running."
The foundation hired Catchen, who has experience working with STEM curriculum development, to work with Christensen, a career physics instructor and researcher.
With the creation of the UCCSTeach program in 2010, UCCS became the 22nd campus nationwide to implement the UTeach program which originated at The University of Texas at Austin. The program prepares a new generation of math and science teachers through strong content knowledge and an inquiry-based approach. An engineering emphasis is available through the recent addition of a Bachelor of Science in Engineering Education degree. The UCCS program, a collaborative effort by the College of Education, College of Engineering and Applied Science, and the College of Letters, Arts and Sciences, was implemented by a grant from entrepreneur and philanthropist Lyda Hill of Colorado Springs and Dallas. For more information, visit http://www.uccs.edu/~uccsteach/
The Petritz Foundation is an independent grant-making organization established by Richard L. Petritz in 2000. The foundation's mission reflects both his life's work and the collective values of his family. Throughout his life he held a steadfast belief in the ingenuity of people to achieve when personal drive and intelligence were nurtured with encouragement and mentorship. He was also a strong supporter and advocate for the role of art and culture in building a diverse and economically viable community. The Foundation's activities are managed by Pamela Petritz Cooper and Jeffrey M. Cooper. For more information, visit http://www.petritzfoundation.org/
— Photos and video courtesy Tom Christensen