In anticipation of large crowds anxious to see UCCS Mountain Lion Basketball teams play, the annual "Blackout Night" event is now two nights at the Gallogly Events Center.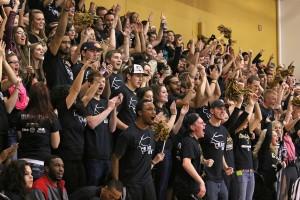 A series of events are planned as part of "Blackout Weekend" Jan. 29-30 as the UCCS men's and women's basketball teams take on Western New Mexico University and New Mexico Highlands University.
Prior to the Jan. 29 game against Western New Mexico University, the Office of Student Activities will host a tailgate for students at 3 p.m. in Berger Hall. Participants will receive a free t-shirt,  food and other giveaways.
The UCCS Alumni and Friends Association will also host an Alumni Night at the game, featuring a t-shirt, and food and beverages in the VIP Suite. Space is limited and those interested in attending are requested to RSVP.
During the Jan. 30 game, attendees will have the opportunity to win spirit themed hoodies, UCCS-themed socks, a GoPro or Beats by Dre headphones.
"This event continues to grow in size, popularity and student interest. It is one of the most important traditions at UCCS and we look to continue to build on it," Stephen Cucchiara, assistant director, Office of Student Activities, said. "We look forward to seeing the tremendous amount of spirit the students will bring to this event."
Tip-offs for both nights are scheduled for 5:30 p.m. for the women's games, and 7:30 p.m. for the men's games.
For more information, contact the Office of Student Activities [email protected] or 719-255-3470.