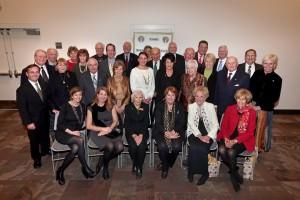 Chancellor Pam Shockley-Zalabak hosted an inaugural dinner for the members of the 1965 Main Hall Society, a newly created society to honor UCCS' most generous lifetime donors Dec. 17.
The 40 named inaugural members of the 1965 Main Hall Society have donated at least $500,000 to the university; additional donors at this level chose to remain anonymous.
"As our golden anniversary comes to a close, we feel it is important to honor those whose financial support has been instrumental to our success and growth," Shockley-Zalabak said. "We truly would not be the same university without the investment of 1965 Main Hall Society donors who have endowed professorships, created scholarships, funded research, and named buildings."
The society's name honors one of the campus's original buildings, within which a permanent 1965 Main Hall Society fixture will be engraved with the names of its member donors.
Inaugural 1965 Main Hall Society donors willing to be named include:
The Balsells Foundation
James and Winnette Berger
Boettcher Foundation
Caring for Colorado Foundation
Bert R. Carollo, MD and Mary L. Carollo, PA-C
Randle and Lena Gail Case
Chapman Charitable Foundations
Clement Family Foundation
The Colorado Health Foundation
Daniels Fund
Joseph Henry Edmondson Foundation
El Pomar Foundation
Ent Federal Credit Union
James L. and Janet M. Gallogly
Dona R. H. Hildebrand
Inasmuch Foundation
Helen K. & Arthur E. Johnson Foundation
Kane Family Foundation
Sandy and Dorothy Kraemer
John E. Lane & Margaret L. Lane Foundation
Lester B. (Dusty) and Katherine H. Loo
Memorial Health Foundation
Nor'wood Foundation
Scott D. Oki
Ed and Mary Osborne
The Penrose-St. Francis Health Services
Jim and Karen Possehl
The Reisher Family Foundation
Peter and Vivian Teets
Joe and Linda Woodford
Charles and Pam Shockley-Zalabak