A book of UCCS memories was unveiled this week as part of 50th Anniversary celebrations.
"Why I Came, Why I Stayed" features 20 first-person essays from some of the university's earliest and longest tenured faculty and staff members. In distinctly personal styles, they share stories about their hiring, challenges and opportunities.
The 94-page book filled with anecdotes and glimpses into the university's past, debuted Oct. 6 with members of the university's Retired Faculty and Staff Association. Members were given a copy of the book, current student recruitment information, lunch and an update from Chancellor Pam Shockley-Zalabak about the current state of the university.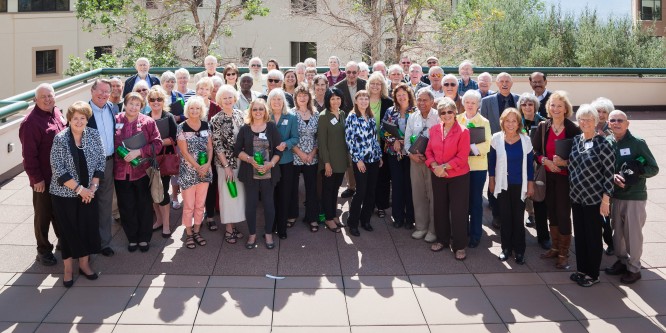 "If you had not come – or not stayed – we wouldn't be here today," Shockley-Zalabak said. "We owe you our thanks."
Shockley-Zalabak briefed the group on a gift that led to the naming of the Helen and Arthur E. Johnson Beth-El College of Nursing and Health Sciences, progress on the Ent Center for the Arts, new student housing and dining facilities, and record enrollment of 11,299 students this fall.
She encouraged UCCS retirees to enjoy the fruits of the foundations they laid by attending campus events and referring potential new students to the university.
Shockley-Zalabak explained that "Why I Came, Why I Stayed" was intended as a publication to both record the memories of those who helped build the university as part of the 50th anniversary celebration but also to inspire current faculty and staff to shape their careers.
While the essays vary widely in style and approach, there are several common themes. They include comradery between and among faculty and staff, an appreciation for teaching — particularly of non-traditional students — and contributions to something larger than one's self.
"I quickly discovered that the campus and the city had more to offer than just natural beauty," Tom Napierkowski, professor, Department of English, wrote. "Both consisted of a community of people with whom my family and I bonded almost immediately."
Tim Tregarthen, professor emeritus, Department of Economics wrote:
"For the first several years I taught at UCCS, I was always the youngest person in the room," Tim Tregarthen, professor emeritus, Department of Economics, wrote. "I was 25; students ranged from the late 20s to well over 65. They never wondered why they were at the university – it was almost as if each was on a mission aimed at personal advancement and intellectual growth."
Barbara Swaby, professor emerita, College of Education, wrote:
"I realized that these teachers would hold my feet to the fire so to speak, and that I would have the opportunity to create something significant in an academic environment that clearly needed my skills."
The publication was completed by Jeff Foster, associate director, Office of University Communications and Media Relations, Kathy Griffith, interim ombuds, Office of the Chancellor, and Tom Hutton, executive director, Office of University Communications and Media Relations. Foster provided design and photography services, Griffith served as project manager and Hutton served as editor.
To see the essays, visit http://issuu.com/jfoster2/docs/uccs_why_i_came__why_i_stayed_-_fir?e=19324621/30535231
— Photo by Jeffrey M Foster