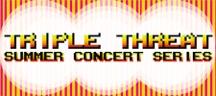 The Galleries of Contemporary Art, Nosh, and the Colorado Springs Philharmonic will offer four free concerts in downtown Colorado Springs this summer.
Called the Triple Threat Concert Series, the Thursday night events are scheduled for July 16, July 30, Aug. 13 and Aug. 20 at the Nosh Restaurant patio, 121 S. Tejon Street, Colorado Springs. The concerts will feature classical performances of motion picture film scores, local-indie folk favorites Miette Hope and Edith Makes a Paperchain, award-winning Idris Goodwin, and an international premiere by Denver-based artists Thug Entrancer + Milton Melvin Croissant III.
The concert schedule and brief descriptions follow
July 16, First-String Quartet
Colorado Springs Philharmonic musicians Cynthia Robinson (violin), David Halvorson (cello), Julie Dodge (viola), and Elizabeth Eden (violin) showcase the full musical and emotional range produced by strings in their musical selections featuring scores from motion pictures.
July 30, Miette Hope and Edith Makes a Paperchain
With haunting melodies and a knack for inspiring audiences to dance and clap, this musical group has both local and critically acclaimed musicians. Sarah Hope (vocals, guitars), Brett Andrus (bass), Matt Chmielarczyk (guitar, ukulele, mandolin), Hilary Studebaker (vocals and viola), and Alex Rich (drums) perform original indie-folk music.
Aug 13, Two Turntables and a Microphone
Through the lens of hip-hop, Idris Goodwin and DJ Gravity showcase two instruments, one organic and the other mechanical. Rap, singing, and spoken word will highlight the human voice while two turntables and a microphone showcase the vital instrumentation of the turntablist for engaging crowds.
Aug 20, Thug Entrancer + Milton Melvin Croissant III
Denver- based sound artist Thug Entrancer draws inspiration from electronic and experimental composers. Milton Melvin Croissant III is a motion-based artist from Brooklyn, N.Y. Together, the artists will premiere a new media collaboration to close the Triple Threat Concert series and launch their world tour.
GOCA is a regional hub of contemporary art, culture, and conversation. By featuring world-class artists, hosting artist and expert talks, and offering meaningful events, GOCA engages UCCS students, faculty, staff and Pikes Peak Region community members in contemporary culture and life. GOCA is a contemporary arts organization with two galleries, one founded on the UCCS campus in 1981 and a satellite downtown location that opened in 2010 in the Plaza of the Rockies building.