More than 1,000 participated in spring 2015 Commencement exercises May 15 at the Broadmoor World Arena.
The event featured comments by university dignitaries, as well as Student Achievement Award recipients Dylan Shuster and Matthew Prichard.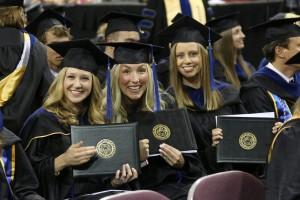 Among the graduates, 10 faculty and staff members earned degrees. Faculty and staff graduated included: Terainer Brown, program manager, Pre-Collegiate Support and Success Center; Susan Fisher, program assistant, Admissions Services; Megan Gallegos, marketing manager, University Marketing; Garrett Gatlin, director, Chancellor's Leadership Class and UCCSlead; Nancy Hoist, administrative assistant, College of Engineering and Applied Science; John-Thomas Martinez, financial assistant, Office of the Vice Chancellor for Student Success and Enrollment Management; Nate Raugutt, academic advisor, College of Engineering and Applied Science; Shawna Rogers, director, Office of Professional and Executive Development, College of Business; Kathy Tirado, conference services meeting and event assistant, University Center; Samantha Wood, director of alumni relations, College of Business.
Chris Jenkins, president, Nor'wood Development, received the Distinguished Service Award, an honor bestowed by the University of Colorado Board of Regents on individuals who have demonstrated outstanding achievement associated with the state or nation.
A total of 1,322 students are scheduled to graduated from UCCS this spring. 360 earned graduate degrees and 962 with undergraduate degrees. In December, 784 students graduated. The 2,106 degrees granted by UCCS in 2014-2015 is the largest in the university's history.
— Photos by Jeff Foster, Philip Denman and Tom Kimmell
— Video by UCCS Media Services