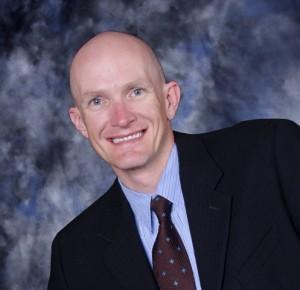 A local developer will be recognized for his service to the university and the greater Colorado Springs community during the 41st UCCS Commencement Ceremony May 15 at The Broadmoor World Arena.
Chris Jenkins, president, Nor'wood Development, will receive the Distinguished Service Award, an honor bestowed by the University of Colorado Board of Regents on individuals who have demonstrated outstanding achievement associated with the state or nation.
The ceremonies are scheduled for 10:30 a.m. for graduates of the College of Letters, Arts and Sciences and 2:30 p.m. for graduates of the Helen and Arthur E. Johnson Beth-El College of Nursing and Health Sciences, College of Business, College of Education, College of Engineering and School of Public Affairs. The ceremony is split to accommodate the more than 1,000 spring graduates who are expected to participate in the ceremony and their families.
"Chris Jenkins is a third-generation Coloradan who is community-connected and committed to the state's future," UCCS Chancellor Pam Shockley-Zalabak said.
She was one of several people who nominated Jenkins for the award.
Nor'wood provided downtown real estate space for use by the UCCS Galleries of Contemporary Art and led two substantial community development efforts, the Operation 6035 strategic planning effort and the City for Champions proposal which includes an innovative sports medicine facility at UCCS. He is also active in the Cultural Office of the Pikes Peak Region, the University of Colorado Colorado Springs Development Corporation, the Downtown Development Authority, the Colorado Springs Fine Arts Center and the Regional Business Alliance. The Nor'wood Foundation serves Christian initiatives with a focus on youth, elderly and regional arts and culture.
Recent previous recipients of the Distinguished Service Award include
Tucker Hart Adams, an economist, 2013
Tom Saponas, a computer industry executive, 2008
David Palenchar, of El Pomar Foundation, 2007
Joseph Woodford, a local business leader, 2004