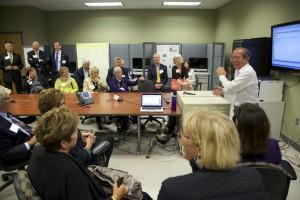 UCCS hosted key meetings Friday for the University of Colorado Foundation's Board of Trustees and Board of Directors.
The board of trustees is the university's leading volunteer group while the board of directors oversees the foundation tasked with managing $300 million in annual private support to CU and a $1.08 billion endowment.
At the trustee meeting Friday morning, approximately 50 members heard Chancellor Pamela Shockley-Zalabak talk about UCCS signature initiatives including a cyber-security partnership with the U.S. Army Reserves and efforts on behalf of military veterans that have received private support.
Trustees took a tour guided by Edward Chow, professor, Department of Computer Science, College of Engineering, of a data center and cyber security lab. Charles "Chip" Benight, professor, Department of Psychology, and director, Trauma, Health and Hazards Center, also shared with trustees the center's mental health work with veterans. The center received a $2 million grant from philanthropist Lyda Hill in 2013.
A Thursday night reception for CU volunteer leaders was hosted by Shockley-Zalabak, CU Foundation Board Chair James Linfield, and CU Foundation CEO Jack Finlaw. The event drew about 150 people, including CU President Bruce Benson and his wife, Marcy.
— Photo by Philip Denman