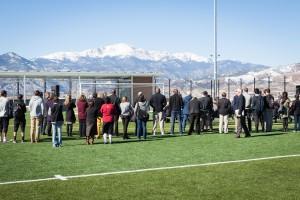 Students with a passion for soccer will be able to pursue a business degree with an emphasis in soccer management at the College of Business beginning this fall.
Students in the program will gain hands-on experience through professional practicums with the Colorado Rapids organization. Soccer management will be housed within the high-demand Sport Management Program, an area of emphasis in the Bachelor of Science in Business degree at UCCS.
Rapids and UCCS leaders announced the partnership during a 10:30 a.m. March 10 event at Alpine Field. Chancellor Pam Shockley-Zalabak, Venkat Reddy, dean, College of Business, and Eric Olson, professor, College of Business and Sport Management Program director, and Tim Hinchey, president, Colorado Rapids, made brief comments before signing soccer balls and kicking them into an open goal.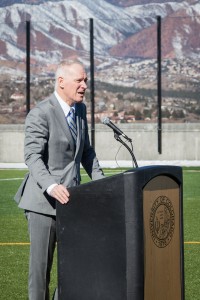 "We have worked diligently to build our relationships with soccer clubs that can provide the type of rigorous professional learning experience students need to launch successful careers in the soccer industry," Olson said. "There's a very good reason this program is part of an internationally accredited, world-class business degree. In the ultra-competitive world of sport business, this is the kind of education and experiential training that opens doors and sets you apart as a sports professional. This is the only program of its kind in the nation."
Students in the program complete coursework in subjects such as sport marketing, sport law, accounting and finance in small classes taught by doctoral degree-holding university faculty and industry professionals. Students supplement classroom education by rotating through professional practicums where current Rapids front office staff will provide real world learning experiences in areas such as marketing, ticket sales, sponsorship sales and soccer operations. Additional training will occur in the UCCS Education Center, a suite at the Rapids facility, Dick's Sporting Goods Park.
"We are delighted to launch such an innovative sports business program with UCCS," Hinchey said. "We feel that the blend of the Rapids' practical know-how and the academic reputation of UCCS could help create some of the sports business leaders of tomorrow."
Reddy said: "I'm delighted to see the realization of over two years of hard work between UCCS and the Colorado Rapids," Venkat Reddy, dean, College of Business said. "This first of its kind program truly exemplifies both our organizations' passion for preparing students for bright futures in the exciting and expanding business of soccer."
For more information about the program, visit www.uccs.edu/smp.
— Eric Nissen, College of Business
— Photos by Jeffrey M Foster, Video by Philip Denman