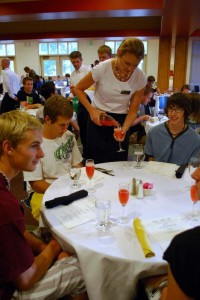 Students living in Alpine Village were treated to a gourmet meal with wait staff representing the highest level of university administrators Wednesday night.
The Fifth Annual Housing Village Formal Dinner featured sautéed trout with lemon caper sauce, sweet paprika chicken in a pastry shell, sliced eye of round with smoked chorizo sausage in apple brandy sauce and vegetarian strata.
Serving the meal and refilling drink glasses were university officials including Jenny Watson Willits, assistant counsel, Office of the General Counsel, Kee Warner, associate vice chancellor for diversity, Jeff Davis, director, University Center, Barb Gaddis, director, Student Retention and First Year Experience, and Homer Wesley, vice chancellor, Student Success and Enrollment Management.