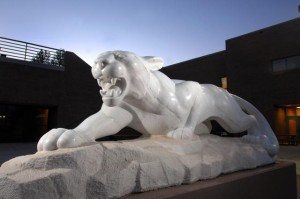 A 32-inch marble replica of the mountain lion that graces the University Center Plaza will be unveiled Sept. 10 at the Gallogly Events Center.
In a 6 p.m. reception prior to the UCCS vs. Winona State University women's volleyball game, the white marble mountain lion donated by Chan Bergen, Colorado Springs, will be unveiled and Bergen honored. The smaller version of the two-ton University Center mountain lion that guards the University Center will sit in the Gallogly Events Center lobby, solidifying Gallogly as the home of UCCS Mountain Lion athletics.
"Chan Bergen serves as an incredible model of loyalty and devotion," Chancellor Pam Shockley-Zalabak said. "We are deeply appreciative of his support of UCCS."
University officials, representatives of the Athletic Department and the CU Foundation will attend the event. Campus community members are invited to the ceremony and to attend the game that follows.
Like its larger sibling, the smaller mountain lion was created from Colorado white marble by sculptor Ernest Geolfos, Broomfield. Bergen purchased the sculpture and donated it to the university.
In 2004, Bergen donated the University Center mountain lion to honor his late wife, Melitta. The couple was married for more than 50 years following Melitta (Kiilits) Bergen's escape from war-torn Estonia. Chan Bergen served in the U.S. Army, retiring as a lieutenant colonel in 1963. He later joined the staff of Western Horseman magazine and retired as its director and editor in 1985.
In addition to his donation of both mountain lion statues, Bergen is a supporter of the Kraemer Family Library and the Heller Center for the Arts and Humanities at UCCS. The Bergens also established a trust to support the School of Journalism and Mass Communication at CU-Boulder.