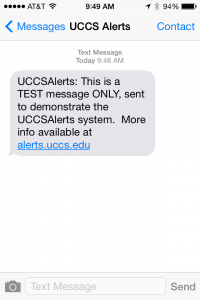 UCCS is launching a new emergency notification system known as UCCS Alerts, and will conduct a campus-wide test of the system at 12:05 p.m. Oct. 29.
UCCS Alerts is designed to provide information about campus emergencies, closures, and other incidents that may affect the safety of the campus community.
The new system utilizes Rave Mobile Safety, a secure and authorized emergency notification software used by more than 500 universities and 9-1-1 dispatch centers throughout the United States, including CU-Boulder, CU Denver and the CU Anschutz Medical Campus. UCCS Alerts provides information about campus emergencies, closures, and other incidents that may affect the safety of our campus community.
According to Tim Stoecklein, program director, Emergency Management, the new system will accommodate UCCS's future growth while being more user-friendly and providing more services.
"Campus safety will always be our primary goal," Stoecklein said. "UCCS Alerts will allow us to register more users, which means we can reach more people in the case of an emergency."
One important feature of UCCS Alerts is that it allows faculty, staff and students to use campus username and password to access the portal to update contact information.
The new system will also allow users to register up to nine personal points of contact by which to receive alerts and notifications, including text messages, email and reverse 9-1-1 calls.
"As we've seen during the recent fires and flooding, having accurate information as quickly as possible can make the difference between life and death," Stoecklein said. "By registering with UCCS Alerts, you position yourself to be in-the-know during a critical moment, which will allow you to safely react during an emergency situation."
The Emergency Management Office will test the new system during a class change at 12:05 p.m. on Oct. 29. The test will consist of sending text and email notifications to all registered users.
While the contact information of individuals registered with the previous emergency notification system, e2Campus, has been migrated to UCCS Alerts, users should login to ensure the contact information is accurate and up-to-date.
Students can update their information through their MyUCCS Portal. Faculty, staff, and other UCCS affiliates can access their account via the Alerts Sign Up tab at alerts.uccs.edu.
Another change is the creation of the UCCS Alerts webpage, which will share the latest information during an emergency, list on- and off-campus emergency resources, and a FAQ page to better explain the new emergency notifications system.
For more information about UCCS Alerts, please visit the FAQ page, or contact UCCS Emergency Management at 255-3106 or via email at [email protected].