Whether it's training library staff, coordinating course reserve services, maintaining the library's lighting system or locking the doors at 3 a.m. during finals week, Kevin Jacobs is accustomed to working behind the scenes.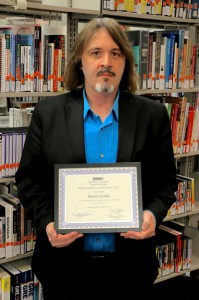 But after recently being named Employee of the Quarter, Jacobs, library technician, Kraemer Family Library, may have to deal with a little extra attention.
The seven-year UCCS veteran said he was surprised when he was notified of the award and the accompanying day of administrative leave, $100 stipend, certificate of recognition and three months of free and reserved campus parking.
"I'll pick up a lot of little things to help out, but I've never seen it as an issue or something special," Jacobs said. "I figure if something needs to be done and I can do it, than why not just do it?"
This "can do" attitude was reflected in Jacob's nomination letters.
"One of Kevin's greatest strengths is his work ethic," Carla Myers, director of access services and scholarly communications, Kraemer Family Library, wrote. "You'll never hear him say 'that's not my job.' Whenever a problem presents itself, Kevin immediately acts to resolve it."
While Jacobs is more than willing to lend a helping hand in order to get a job done, his regular job duties include interviewing, hiring and training more than 20 new student employees and coordinating the course reserve services for faculty.
According to Jacob's supervisor, Jon Hall, circulation services professional, both of these duties converge at the start of each semester, something he witnessed first-hand this fall.
"I had heard stories about how [Kevin] was somehow able to manage these duties successfully in the past. However, I had yet to witness the chaos and uncertainty that he goes through," Hall said. "I was amazed at his ability to remain calm and focus during even the busiest of times. I was even more amazed that the quality of his work never waiver, nor did his positive attitude or sense of humor."
According to Hall, Jacobs' sense of humor, laid-back personality and dedication are an asset not only to the Kraemer Family Library, but to the whole campus.
"Kevin is a bridge builder… always looking for ways to lift the spirits of his coworkers and the student employees," Hall said. "His work assisting faculty with their needs has been a benefit to every professor and student who utilize our course reserve materials."
Again, Jacobs easily shrugs off the praise.
"The library team is great and very supportive, it's a small family like group, " Jacobs said. "I just hope they know that if anyone needs anything that I'll help them out."
Outside of work, Jacobs enjoys music, playing guitar and working at Independent Records. Similar to his job at UCCS, he says he enjoys helping people find what they're looking for and sharing common interests.