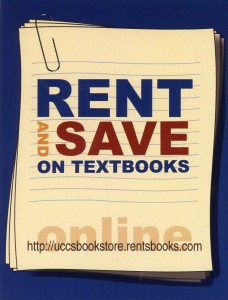 The campus bookstore is doing its part to keep costs of attending UCCS low.
New this fall is a program that allows students to rent texts from more than 3 million titles and under five different rental terms.
"It's all about giving students choices," Sharron Coddington, sales manager, said. "This is a new option that helps students stretch their money."
Renting a text for 30 days or for an entire semester supplements traditional routes of buying texts and holding them for future reference or buying with the hope of reselling.
"Renting takes the guess work out of whether this semester's text will be next semester's text," Coddington said. "That becomes the textbook owner's problem, not the student's."
The UCCS Bookstore uses a service to help students interested in renting and is building its own library of rental texts for disciplines such as English, anthropology, psychology and business.
So far, 156 students have taken advantage of the service and 1,500 students have visited the www.bookrenter.com, the web link to the service used by UCCS. The attraction, Coddington says, are rentals that are 50 percent less than a new book's cost and 25 percent less than a used book. Add free shipping and no penalty for marking in a text and Coddington thinks this is an option that will grow for budget-conscious students.
Other options available to students include an increasing number of e-book titles, a favorite of vision-impaired students who enlarge typesizes, or the opposite of high-tech, putting textbooks on layaway.
"We have students who come in early, get their choice of the best used texts and put them on layaway," Coddington said. "Then, when their financial aid check comes, they've already done their shopping and gotten the best deals. We have some savvy students and shoppers here."