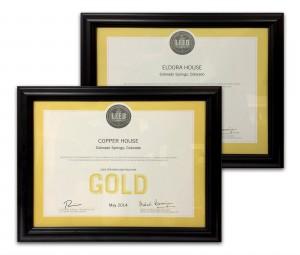 The newest UCCS student residence halls are the latest to receive coveted Leadership in Energy and Environmental Design certification at the gold level.
Linda Kogan, director, Office of Sustainability, recently shared the results of an external review certifying Copper and Eldora as leaders in energy and water conservation, sustainability and efficiency. The two buildings join four other new or recently renovated campus buildings bearing the gold label. The other buildings are Centennial Hall, Osborn Center for Science and Engineering, the Gallogly Events Center and the UCCS Recreation Center. An application is pending for the Lane Center for Academic Health Sciences.
"These latest rankings are a source of pride and show the campus commitment to a green infrastructure," Kogan said. "We have made a commitment to strive for LEED gold on all of our current and future projects."
Copper and Eldora opened in August 2013 and were completed at a cost of $18.1 million. The halls are the first residences at UCCS to be LEED certified and provide space for 192 students to live as part of Summit Village campus housing area.
Key sustainability features in the halls include a rain garden for slowing and improving the quality of storm water, use of local and recycled materials, daylighting and construction waste recycling. The residence halls boast a number of energy and water saving features but Kogan hopes to make students more aware that individual behavior is a key factor in conserving both resources.
While most homeowners and tenants get feedback about energy use patterns in the form of a utility bill, students pay a single bill for room and board. Utilities are included and their costs hidden.
Copper and Eldora will offer residents energy use feedback though a specially designed building dashboard that will provide "real time" information about water and electricity use. The Lucid Building Dashboard will be available via website or smart phone access, enabling occupants to monitor their own use and, potentially, compete with other residents to use the least amount of energy.
The Lucid Dashboard project was a partnership between the Office of Sustainability, the student-funded Green Action Fund, and Auxiliary Services. A fourth portion was funded by Lucid in recognition of UCCS participating in Campus Conservation Nationals, for the past two years. CCN is the largest electricity and water reduction competition program for colleges and universities in the world. It takes place each year from February to April.
See a video explaining how the Lucid Dashboard works