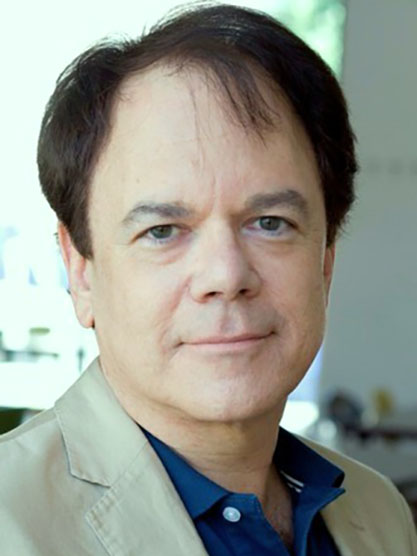 The UCCS community mourns the loss of CU Distinguished Professor Dr. Robert von Dassanowsky, a leading international scholar in Austrian film and literature, who recently passed away. Dr. von Dassanowsky had an illustrious tenure as a professor of German and Visual and Performing Arts and was the founding director of the film studies program at the University of Colorado Colorado Springs. He came to the UCCS faculty in 1993.
Dr. von Dassanowsky's academic contributions are exceptional. He pioneered the field of Austrian film studies, led significant research in Austrian-Hungarian literature, and was an esteemed expert on Austrofascism. His prolific publication record includes three single-authored books, ten edited books and more than 60 referred articles. A colleague once stated about his work that "if there were a Nobel prize for scholarship in film and literature, he would be on the list."
At UCCS, Dr. von Dassanowsky helped found the Department of Visual and Performing Arts in 2005 that launched brand new programs in Art History, Film Studies, Music, and Theater. He generously gave his time mentoring faculty across the department. He was the co-founder and faculty advisor of the long running annual UCCS Student Short Film Festival and mentored Film student recipients of the UCCS Student/Faculty Research, Creative Works and Community Service Awards, as well as MFA Graduate- bound students to top graduate programs in the country. In the classroom, Dr. von Dassanowsky's outstanding teaching skills were reflected in the stellar evaluations he consistently received. More importantly, the heartfelt testimonies from his students highlighted the transformative impact he had on their lives.
VAPA Chair Glen Whitehead said, "Robert was an icon and a leader in VAPA who proved that a professor in the arts at UCCS could ascend to be one of the very best in the world in their field. While being extremely proud of the Film Studies Program, he internalized the hopes and dreams of all VAPA programs, shared in their successes and supported them through challenges. For instance, as Interim Chair in the early 2000s, he stewarded the first music degree on this campus, a Minor in Music, and got the ball rolling for us. At the time, this was a lifeline for me that I will never forget (and he never let me forget it, either)!"
Beyond his academic achievements, Dr. von Dassanowsky had a remarkable service record. He played a pivotal role in shaping the cultural and film landscape, from co-founding film festivals in the Pikes Peak region to serving as a curator and moderator for film screenings in Los Angeles and New York. He was also recognized globally as an independent film producer and was director of Belvedere Film, an award-winning production company. His leadership roles included co-founding the Austrian-American Film Association, the International Alexander Lernet-Holenia Society, and serving as president of the Austrian Studies Association.
His efforts were recognized both internationally and locally: he was a member of the European Academy of Sciences and Arts and was the recipient of numerous awards such as Austria's Order of Merit, a Mellon teaching fellow, the University of Colorado's Thomas Jefferson Award and multiple campus and college teaching and research awards. As director of the Elfi Von Dassanowsky Foundation, he further extended his legacy, generously supporting women in the arts.
Dr. von Dassanowsky's educational journey began with a B.A. in Political Science and German, moving onto an M.A. in German with Film Specialization, and culminating with a Ph.D. in Germanic Studies, all from the University of California, Los Angeles. He also attended the AFI Conservatory and the American Academy of Dramatic Arts, marking a holistic academic and artistic journey.
Dr. von Dassanowsky was also an award-winning playwright, television writer, independent film producer, and had affiliations with prominent festival, editorial, and publication boards. His accolades included being elected to the European Academy of Sciences and Arts in 2001, being named a Fellow of the Royal Historical Society in 2007, and a Fellow of the Royal Society of Arts in 2010.
In his passing, we have lost a luminary. Dr. von Dassanowsky's legacy, however, will continue to inspire, educate and pave the way for generations to come. Our thoughts and prayers are with his family and friends during this difficult time.
The memorial service will take place on Thursday, November 9, at 2 p.m. at Saint Mary´s Cathedral in Colorado Springs (22 W. Kiowa Street Colorado Springs, CO 80903). A reception will follow at 4:30 p.m. at the home of Kevin Landis. If you plan to attend the reception, please RSVP to [email protected].
In lieu of flowers, please make gifts in remembrance of him to the VAPA and Languages and Cultures general gift funds which can be found here and here.