The Division of Diversity, Equity, and Inclusion (DEI) is launching two new series: an "Inclusive Belonging Spotlight Series" and "DEI Munch & Learns." These aim to ​create ​development opportunities and share ​resources around ​DEI ​topics ​for ​faculty, staff, students and the campus community.
"The ​idea ​behind ​these ​two ​series ​is ​to ​create ​development ​opportunities ​and resources around ​DEI ​topics ​for ​faculty ​and ​staff, but ​​anyone ​can ​attend. ​Students, ​alumni, ​community ​members, ​guests – they're open to all," said Sloan Gonzales, Director of DEI Education and Outreach.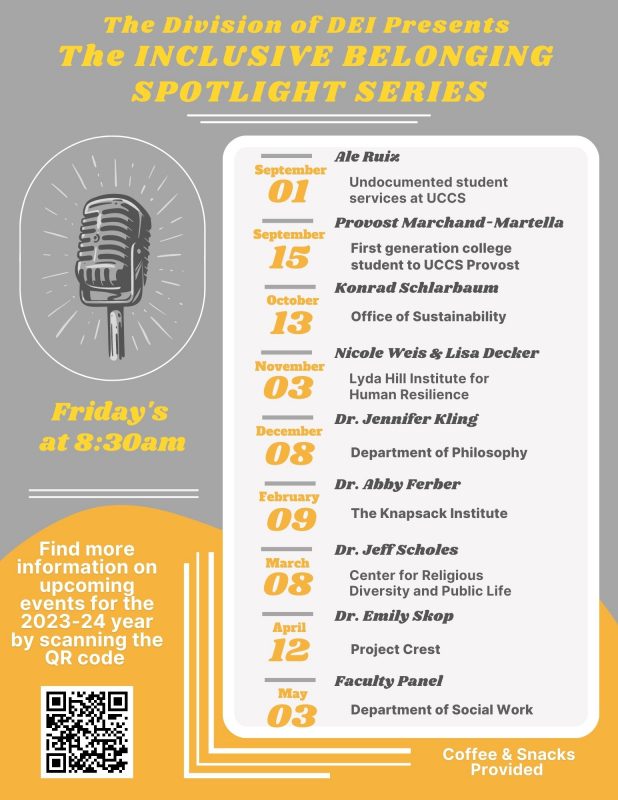 The Inclusive Belonging Spotlight Series is a monthly focus on a campus community member and ​the ​work ​they ​are ​doing ​to ​create ​inclusive ​belonging ​at ​UCCS, like services for undocumented students or DEI efforts within the various departments. Most will take place on the first Friday of each month over coffee and pastries, with the option to attend either in person or virtually.
Gonzales established this series to better highlight divisions and groups on campus after discovering how many were making efforts, often unseen, to incorporate DEI into their work.
"When ​I ​first came into this role, I went on a 'listening & ​learning ​tour' of campus and met with anyone I could and asked them '​tell ​me ​what ​DEI means to you. ​What ​do ​you ​want ​for ​campus? ​What ​are ​you ​currently ​doing with DEI efforts?'" explained Gonzales. "​I ​learned ​there ​were ​pockets ​all ​over ​our ​campus ​with ​people doing ​phenomenal ​DEI ​work ​that ​no ​one ​knew ​about, ​like ​weaving ​DEI​ into ​sustainability ​efforts ​or ​teaching ​a ​very ​unique ​class. ​There ​were ​all ​these ​little ​pockets ​and ​I ​wanted ​to ​create ​something ​that ​elevated ​those ​individuals and ​departments."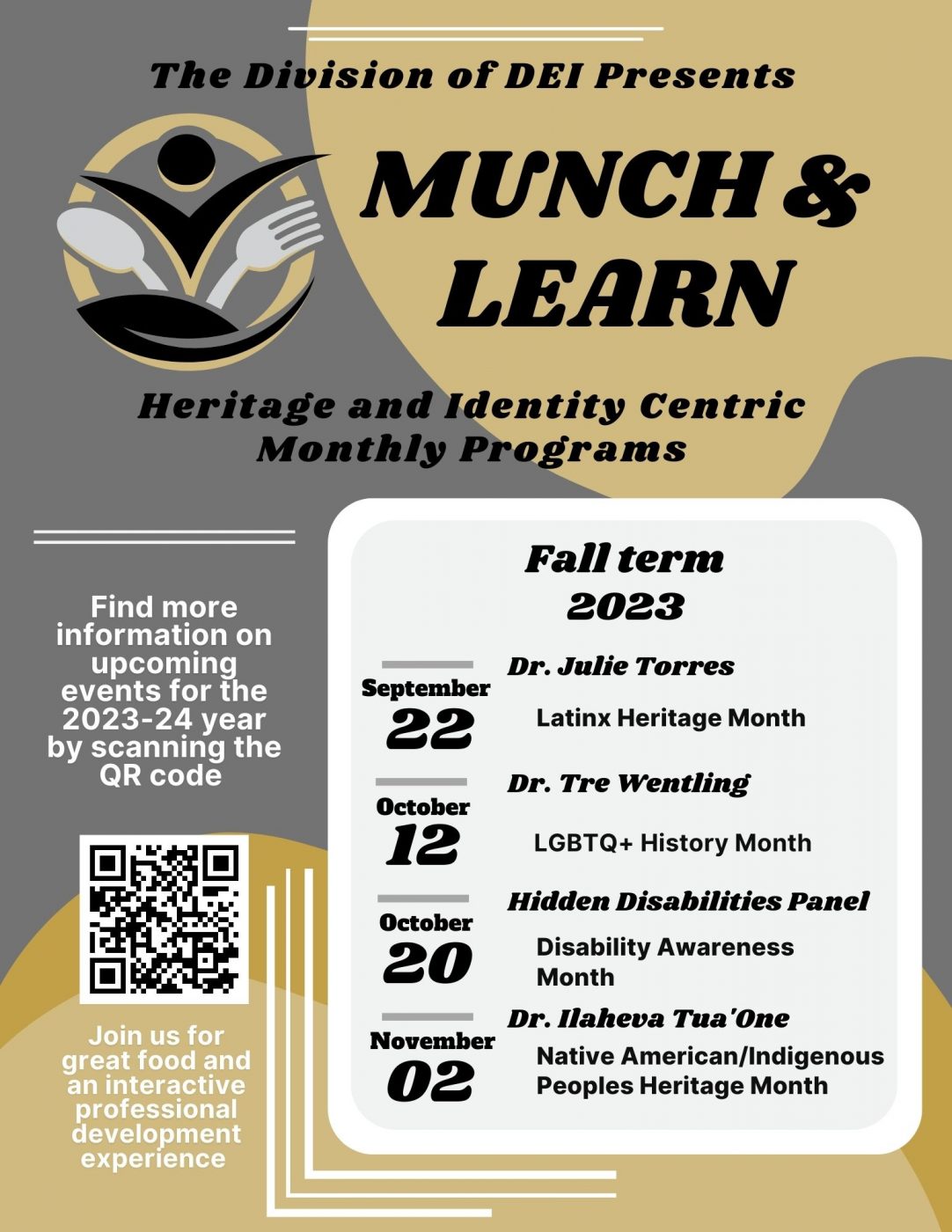 The DEI Munch & Learn series focuses on ​the ​core ​heritage ​and ​identity-centric ​months celebrated at UCCS, with a minimum of one heritage or identity highlighted monthly, starting with National Latinx Heritage Month. This series has three core aspects within each session: an expert in the topic speaking about the heritage or identity's history and why it's celebrated, a corresponding food experience and significant resource sharing, like this Latinx Heritage Month resource guide that has several options and mediums for learning and participating.
"For those that may not be able to attend events or actively participate, I ​wanted ​to ​create ​a ​more ​passive ​way ​for ​people ​to ​connect ​and ​engage ​with ​Heritage ​Month, so we ​are ​launching ​​new ​Heritage ​Month ​resource ​pages," said Gonzales. "These ​feature ​everything from podcasts, films, poems and ​articles to ​local ​businesses and ​organizations ​that ​you ​can ​connect ​with, ​all ​on ​the ​UCCS ​website."
The next Inclusive Belonging Spotlight Series event is Oct. 13 and features speaker Konrad Schlarbaum, Director of the Sustainability Office, and the next DEI Munch & Learn takes place on Sept. 22 and features Julie Torres, Assistant Professor in Women's and Ethnic Studies, speaking on Latinx Heritage Month.
"The Inclusive Belonging Spotlight Series and Heritage Month: DEI Munch & Learns were developed to center our diverse campus communities' voices and lived experiences and empower agency and social responsibility in fostering a greater culture of belonging. We are overjoyed to see the positive impact of bringing our campus together and creating authentic spaces that celebrate diverse cultures and promote global learning and engagement," said Rame Hanna, Vice Chancellor for Diversity, Equity, and Inclusion.
"Thank you to Sloan Gonzalez, Director of DEI Education and Outreach, and our incredible community partners for helping make these programs a reality at UCCS," added Hanna.
For more information about the Inclusive Belonging Spotlight and DEI Munch & Learn series and how to register for their events, visit the DEI Mountain Lion Connect page or the DEI events page.
About the Division of Diversity, Equity, and Inclusion
The Division of Diversity, Equity, and Inclusion aspires to strengthen DEI innovation, impacts, and practices as integral components of inclusive and academic excellence. The Division is committed to fostering an inclusive learning and work environment where all at UCCS feel a sense of belonging and can thrive. The DEI Division promotes the principles of inclusive excellence, multicultural education, and social justice that both enhance the University's service to the public and contribute directly to the work environment and the quality of learning for all who participate. Additionally, the Division seeks to elevate the impact UCCS has as a regional and national leader in preparing students for success in a diverse global society and workforce. Learn more about the Division of Diversity, Equity and Inclusion online.