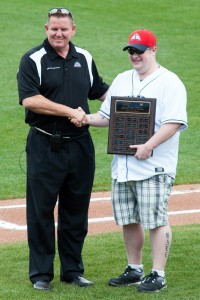 A junior UCCS College of Business student is the first recipient of a Colorado Springs Sky Sox scholarship for future sports professionals.
Trent Hale, Fort Morgan, was awarded the scholarship based on his solid academic performance and application essay where he discussed personal challenges in transitioning to higher education from a small town high school.
"When I first went to college at CSU, I was lost," Hale said. "There didn't seem to be anyone there to help or provide support, and my grades plummeted."
Hale returned to Fort Morgan and worked at a family-operated restaurant that later closed. He credits the experience with teaching him the value of business training and developing his vision to work in the sports industry. He enrolled at UCCS as a pre-business major before being accepted into the highly competitive Sport Management program in the College of Business.
"This scholarship will allow me to take on a full-time internship that will help broaden my professional experience," Hale said. "I've already had some great field experiences in the Sport Management program and I'm looking forward to honing my skills and building my professional network."
Venkat Reddy, dean, College of Business said: "We are excited to support Trent's passion for sports. Our partnership with the Sky Sox has always been strong, but the new Sky Sox Sport Management Scholarship is an even greater example of their commitment to our students and the Colorado Springs business community."
"We are extremely excited that Trent is being awarded the inaugural Sky Sox Sports Management scholarship," Tony Ensor, Sky Sox president and general manager, said. "The sports industry is full of passionate people, including Trent, and we're proud to be involved with our local students who are following their passion for sports. We look forward to seeing what the future holds for Trent."
For more information about the Sport Management Program, visit www.uccs.edu/spm/
The Colorado Springs Sky Sox are the Triple-A affiliate of the Colorado Rockies and play a 144 game schedule as a member of the Pacific Coast League. The team is celebrating 27 years in Colorado Springs and makes its home at Security Service Field, 4385 Tutt Blvd. The Sky Sox won PCL Championships in 1992 and 1995. For more information, visit www.skysox.com.
— Eric Nissen, College of Business