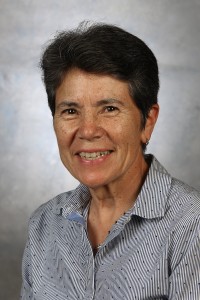 Colorado Springs Mayor Steve Bach will recognize Janice Gould, associate professor, Women's and Ethnic Studies, with a Spirit of the Springs Award in an on-campus public ceremony at 1:30 p.m. May 5 at El Pomar Plaza.
Gould was recently named the 2014-2016 Pikes Peak Poet Laureate by the Cultural Office of the Pikes Peak Region. In this position, she will be an ambassador for poetry in the region.
Chancellor Pam Shockley-Zalabak will join Bach in the presentation of the award.
Following the presentation to Gould, Bach will honor the record-setting Mountain Lion basketball season. Shockley-Zalabak and Head Men's Basketball Coach Jeff Culver will join in the ceremony.
A live video stream of the event will be available at http://gomountainlions.com/
Related articles:
Mayor to recognize men's basketball team