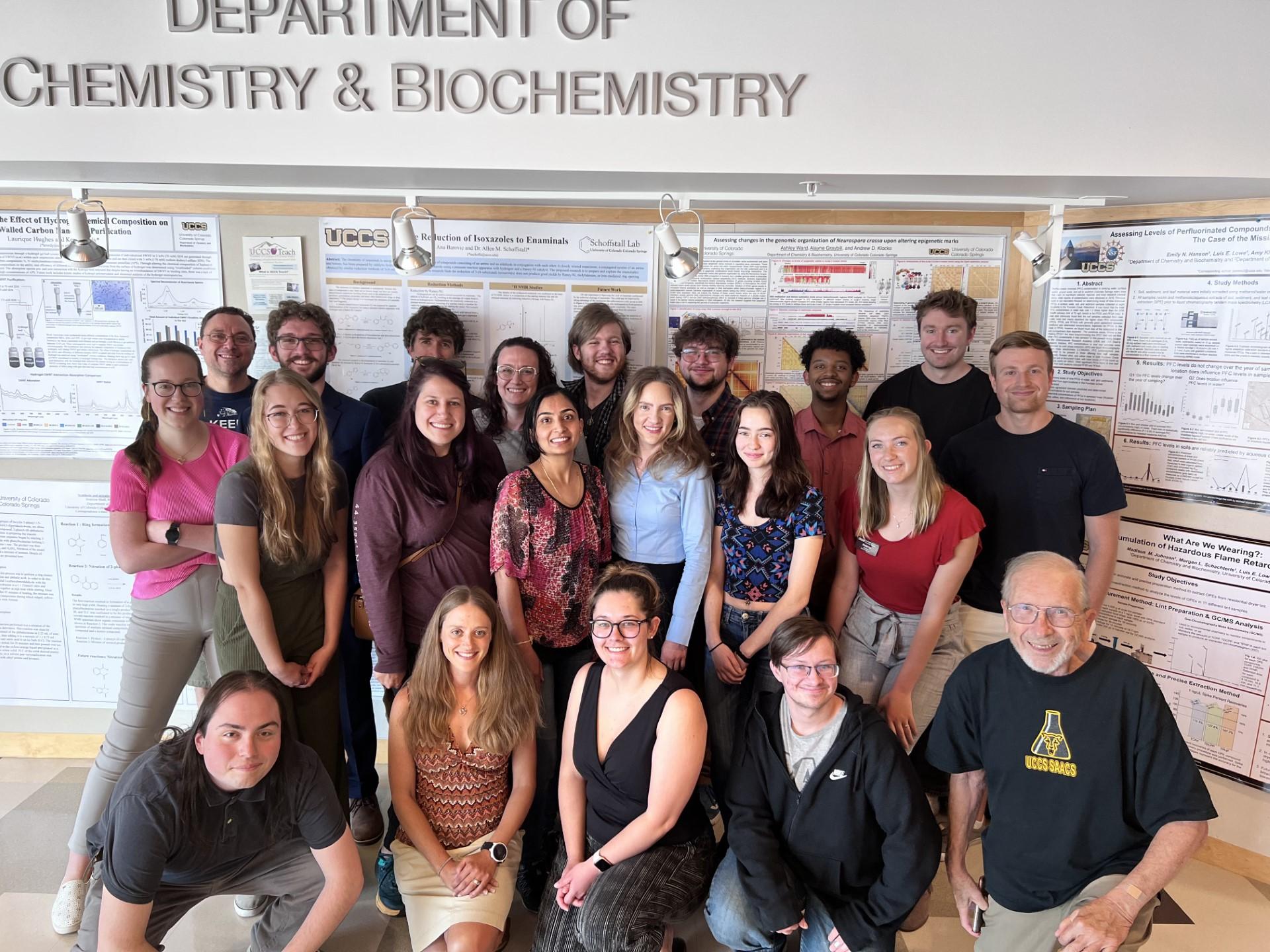 The Department of Chemistry and Biochemistry held its 2023 Department Research Symposium Summer on Aug. 4.
The symposium gives presenters the opportunity to share research highlights. Most of the presenters were undergraduates students showcasing their summer projects, which were a variety of educational and laboratory research in chemistry and biochemistry. Each speaker gave a brief summary of their accomplishments and work from their summer term to an audience of fellow students and faculty from the department.
"Undergraduate research is known to be a high impact practice and is designed to launch lifelong learners and researchers for in-depth exploration in their field of interest and expertise," said Allen Schoffstall, professor in the Chemistry and Biochemistry department.
The research presentations topics included:
Understanding the Molecular Interactions of a Lupus Therapeutic
Reduction of 3,5-disubstituted isoxazoles
Stepwise building block Os(II) complexes for potential use in photodynamic therapy
Preparation and reaction of a tricyclic enaminal
Learning General Chemistry in-person, remote, online or hyflex: Which is best?
Synthesis of bis-triazole diacids and derived polymers
Synthesis and optimization of 3,5-disubstituted isoxazoles and transfer hydrogenation with hydrazobenzene
A Study of External Electric Field Effects using Gradient Path Curvatures
Reduction of 3,5-substituted isoxazolines
Determining necessary active site model for drug design utilizing TbGSK
Synthesis of isoxazoles and oxime derivatives
Tetramine Dimer In-Source Electrospray Ionization Fragmentation Analysis using Density Functional Theory
Read more about each of the presentations here.
About the UCCS College of Letters, Arts & Sciences
The College of Letters, Arts & Sciences at UCCS is the university's largest college, enrolling nearly 6,000 students across 21 departments and programs. The college offers 19 majors and 53 minors in the arts, humanities, social sciences and natural sciences. Students can also choose from five accelerated bachelor's and master's degrees, nine full master's degrees and three Ph.D. degrees, as well as pre-medical and pre-law programs. The mission of the college is to position graduates for success in their personal and professional lives, with a focus on thinking, creating and communicating — skills vital to employers and graduate and professional schools. Learn more about the College of Letters, Arts & Sciences at UCCS.