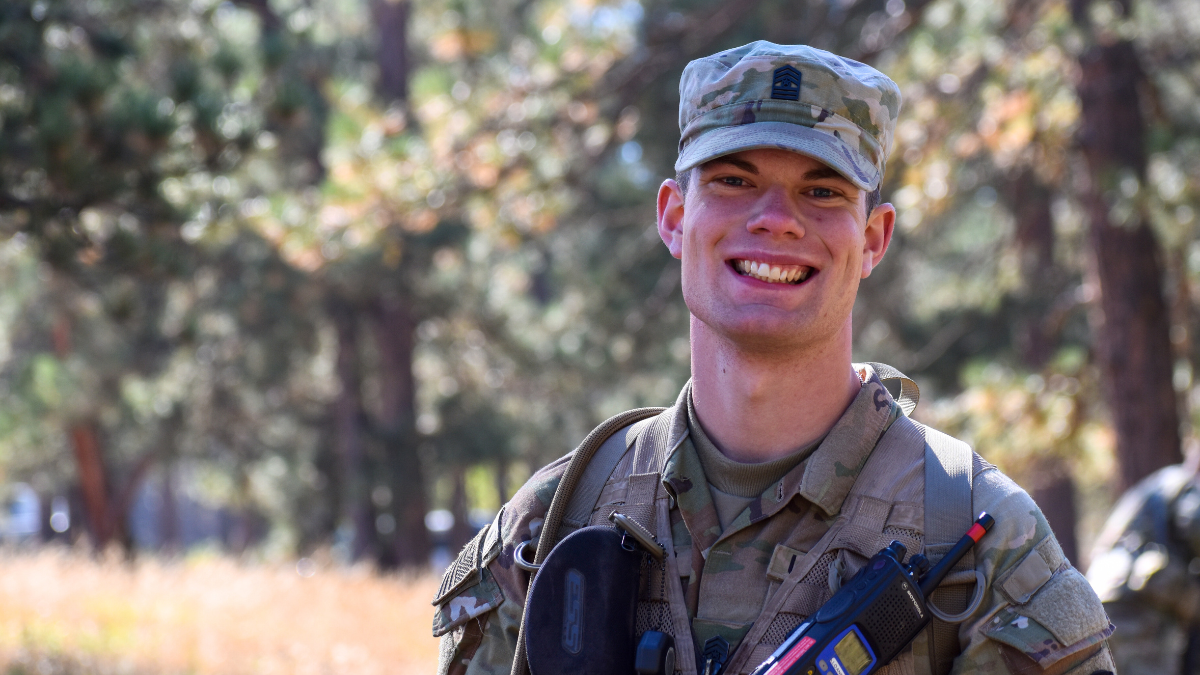 Brian Roberts never really set out to become the number one Army Reserve Officers' Training Corps (ROTC) cadet in the nation. Honestly, he had never even set out to join the ROTC in the first place. But once Brian commits to doing something, he does it 100%.
"I just did everything I could to succeed," he said. "I paid attention, I spent time studying when I didn't have to, and spent hours learning and practicing all the skills, pretty much just preparing and doing the best I could. That's the standard that I always have for myself – no matter what I do, if I give 100% of my effort, and I fail, I don't have to look back and say it was because I didn't try hard enough."
Brian initially joined the Army ROTC as a way to pay for college.
"I got a three-year scholarship, right out of high school, and I decided I would just do my best," he said.
Four years later, Brian's best made him the number one Army ROTC cadet in the nation. He majored in Mechanical Engineering with minors in Aerospace Engineering and Military Science, and he is graduating with a 4.0 GPA and a spot in a competitive post-graduate Army aviation school.
A Colorado native, Brian chose UCCS for its proximity to his family and the friends he made in Colorado Springs during high school, as well as its renowned ROTC program.
"I knew the ROTC program here had a great reputation," he said. "The military resources in Colorado Springs are abundant compared to anywhere else. There are so many resources at the university's disposal to make us the best officers we can be. I wanted that quality training, and I knew I would get it here."
Brian estimates ROTC took up 10-15 hours each week. Every day is an early day, with cadets waking up three days a week for physical training (commonly known as PT). The ROTC program also included weekly classes and "labs," which involve learning basic soldiering skills.
There's also an extra commitment if a cadet holds a leadership position within the battalion, which, of course, Brian did. He is currently the battalion commander, the highest leadership position a cadet can hold, and is responsible for coordinating the UCCS cadets as well as the ROTC branch at Colorado State University – Pueblo.
Brian had had the goal of becoming battalion commander for some time, but had never seriously considered whether he could become the top Army ROTC cadet in the nation.
"I was always looking for extra things," he said. "I wasn't looking to meet the standard, I was looking to exceed the standard. The culmination of all of that, the effort and the mindset, helped me succeed."
Brian had an idea that he was "up there" in terms of cadets nationwide, but didn't think he'd achieve the top spot.
A few weeks into the semester, Brian was called into his Lieutenant Colonel's office. Based on the Order of Merit List, which considered his GPA, employment, performance at summer training, achievements within the ROTC program and other extracurriculars, Brian was told he had been ranked number one in the country.
"It was wild…I didn't really know how to respond at first, I was very surprised," he said. "It was definitely breathtaking. It's good to look back and see how all the hard work I put in paid off."
Ultimately, Brian attributes his success to his work ethic over any natural talent.
"It's the fact that I sacrificed a lot of other things, that I spent a majority of my time putting in those extra hours others aren't willing to put in, and that translates," he explained. "I never had a lot of free time or went to parties. I sacrificed that life because I wanted to do the best I could with my degree and in ROTC, because my future depends on it."
Brian credits both ROTC and his time spent earning his degree at UCCS with the development of his leadership skills and more.
"ROTC teaches you how to be an effective, empathetic and motivational leader who can push others towards a common goal," he said. "I've also learned to grow in mental toughness. ROTC puts you, consistently, in uncomfortable situations. That sharpens your mental agility and toughness and helps you grow in ways comfortability lacks."
Brian also said UCCS expanded his horizons and exposed him to a wide variety of engineering topics, as well as providing him with technical skills such as writing and public speaking. His time at the university has also taught him not only to thrive in team environments, but to seek them out.
"Through all my experiences, I've grown so much and have become a better and stronger person compared to who I was before I started here," he said.
During his time at UCCS, Brian has juggled what he describes as a "constant full plate," with engineering classes, ROTC training and leadership and a part time job, all at once.
"That multitude of responsibilities was a major challenge to face and overcome, but I've learned to handle it and that I am more than capable I ever thought I could be," he said.
After graduation, Brian officially will be a 2nd Lieutenant in the Army. He's headed to U.S. Army Flight School and eventually graduate school, a path he got to choose as the top cadet in the country. He discovered a passion for helicopters during one of his summer trainings.
"My sophomore year, I had the opportunity to fly in a Black Hawk for the first time, and it was just exhilarating. After that, I told myself, 'This is the coolest thing in the Army, and if I get to pick something to do in the Army, it's going to be this.'"
"I am so excited to learn how to fly helicopters," he continued. "Aviation has become my passion, and I can't wait to pursue it to the fullest. I'm also looking forward to growing in my engineering experience and see what doors future education will open for me."
His parting advice for other students?
"Try a lot of different things. College provides students with a lot of different resources to figure out what they want to do. So if there's opportunities, take advantage of them, even if it's scary or intimidating. It all helps in the long run, and you never know what could happen."