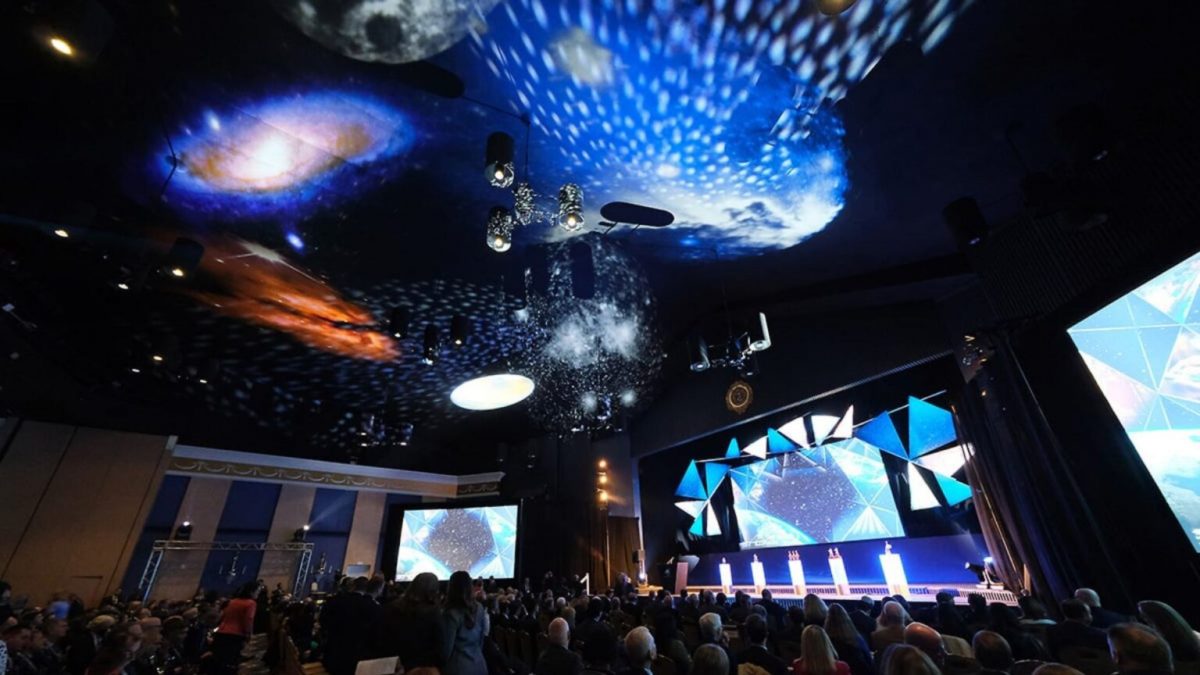 From trailblazing research to cultivating the future workforce, the University of Colorado has been the epicenter of the state's space research sector since 1948.
Space research began at the University of Colorado 75 years ago this month, when leaders at an Air Force research laboratory at New Mexico's White Sands Proving Grounds first partnered with physicists in Boulder to use rockets to study the Sun. At the end of World War II, the Air Force had acquired 100 V-2 rockets captured by U.S. troops in Europe, and they wanted to repurpose them to make the first scientific measurements above Earth's atmosphere.
To meet this challenge, William Pietenpol, chair of CU's physics department, assembled a team of scientists and engineers, founding what would become the university's highest-budget research institute: the Laboratory for Atmospheric and Space Physics (LASP). In 1953, on their fifth attempt, the team successfully launched an instrument that observed the Sun's ultraviolet radiation from space. This achievement led to the 1956 spinoff of a company that would eventually become Ball Aerospace.
Since its genesis, LASP has been instrumental in positioning the university as a hub for the state's aerospace and defense economy, the largest per capita in the nation. This leadership will continue this week, when representatives from LASP and other CU affiliates participate in the 38th annual Space Symposium. The meeting, held annually in Colorado Springs, brings together thousands of participants from the civil, commercial, and national security sectors to discuss space-related issues, policies, and future directions.
"LASP and its incredible work in space science are stellar examples of CU's profound impact on the state's $15 billion aerospace economy," said CU President Todd Saliman. "Colorado's unique convergence of academic research, military installations, and aerospace and other high-tech industries provides the state with unparalleled opportunities for innovation, collaboration and additional growth in this crucial sector."
Research and innovation
Today, the University of Colorado encompasses four campuses. All of them help foster an environment in which researchers, faculty, and students can seamlessly collaborate with government and industry partners. Collectively, the institutes received $366 million in sponsored research funding in Fiscal Year 2022 with LASP accounting for 42% of the total. CU Boulder is also the top university recipient of NASA astrophysics technology grants.
"CU Boulder's research institutes embody the collaborative approach and impact that distinguishes our university," said Massimo Ruzzene, vice chancellor for research and innovation and dean of the institutes at CU Boulder. "Bringing together the best from a range of disciplines across campus, federal and university collaborators and private sector partners, our institutes are uniquely positioned for high-impact scholarship, discovery, workforce development, and overall benefit to society. LASP is a perfect example of how much our institutes can accomplish."
The institutes collaborate with federal partners, including NASA, NOAA, NSF, and NIST, as well as numerous industry, military, and academic partners, including within the CU system.
The 38th Space Symposium
Representatives from across the university, including LASP, CU Boulder's AeroSpace Ventures initiative, and the College of Engineering and Applied Science at the University of Colorado Colorado Springs (UCCS), are jointly hosting an exhibit booth at this year's Space Symposium. Together, they will highlight CU's prominence in aerospace engineering and climate and space-weather research, as well as the crucial role the university plays in developing Colorado's aerospace workforce.
"This coordinated presence at the Space Symposium is a great example of how leaders and units from across the university system collaborate to highlight CU's extensive aerospace expertise and the many resources our campuses have to offer," said Chris Muldrow, the Smead Director and Department Chief of Staff in the Ann and H.J. Smead Department of Aerospace Engineering Sciences. "We are a world leader in aerospace, and our impact is multiplied when we bring the best of CU aerospace to the space ecosystem."
The College of Engineering and Applied Science at UCCS produces highly qualified undergraduate and graduate students with solid technical backgrounds plus crucial experiential learning. The college's new Bachelor of Science degree in Aerospace Engineering, which launched this fall with a full cohort of students, will leverage the existing expertise in the Department of Mechanical and Aerospace Engineering.
"This summer, to stand up the program, the college broke ground on a new facility, the Anschutz Engineering Center, slated to open for classes in January 2024," says Sue McClernan, the college's career and industry outreach program director. "Student and workforce demand prompted the new degree, and we believe the Bachelor of Science in Aerospace Engineering at UCCS is well suited for a thriving aerospace economy in Colorado Springs and the region."
AeroSpace Ventures brings together researchers, students, industry leaders, government partners, and entrepreneurs to envision and create the future for space and Earth systems. "This initiative is helping to drive the discovery and innovation that will shape the 21st century's aerospace economy," says George Hatcher III, executive director of industry and foundation relations at CU Boulder. "AeroSpace Ventures brings together CU Boulder departments, institutes, centers, and programs across the university to amplify the more than $120 million in aerospace-related research that happens on campus each year."
CU Boulder also hosts the Space Weather Technology, Research and Education Center to serve as a catalyst site for space weather research and technology development among CU and other Front Range space research and technology organizations. The campus also hosts the Center for National Security Initiatives. It provides high-impact national security research to government and industry partners and addresses the ever-increasing demand for qualified and experienced aerospace and defense professionals in Colorado and across the nation.
From LASP's humble beginnings 75 years ago, the University of Colorado has developed into an epicenter of space research and aerospace workforce development crucial to Colorado—and our nation.
Founded a decade before NASA, the Laboratory for Atmospheric and Space Physics at the University of Colorado Boulder is on a mission to transform human understanding of the cosmos by pioneering new technologies and approaches to space science. LASP is the only academic research institute in the world to have sent instruments to every planet in our solar system. LASP began celebrating its 75th anniversary in April 2023.