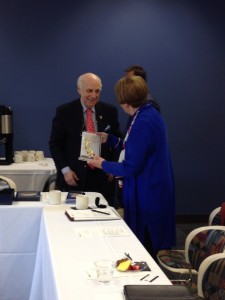 Representatives from Ancient Olympia visited UCCS April 7 as part of efforts to build an official Sister City relationship with Colorado Springs.
Dionyssis S. Gangas, director, International Olympic Academy, and Aristideis Panagiotopoulos,  vice mayor, City of Ancient Olympia, visited UCCS and heard a presentation about the university from Chancellor Pam Shockley-Zalabak. Campus administrative leaders and representatives from the College of Business also attended.
The International Olympic Academy is the academic arm of the International Olympic Committee. Gangas is a former assistant professor in international humanitarian law at Panteion University, Athens. Panagiotopoulos, also a lawyer, is responsible for Sister City projects and Ancient Olympia's cultural issues since being elected in 2011.
Colorado Springs City Council members approved the Sister City agreement April 8. The agreement officially connects Colorado Springs with the site of the ancient Olympic games, a benefit for the U.S. Olympic Committee headquartered in Colorado Springs and, potentially, for Colorado College and UCCS. Gangas and Panagiotopoulos visited with both schools Monday to gauge interest in student exchange and study abroad programs.
With the agreement, Colorado Springs now has seven sister cities. They are: Bankstown, Australia; Bishkek, Kyrgyzstan; Fujiyoshida, Japan; Kaohsiung, Taiwan; and Nuevo Casas Grandes, Mexico, and Smolkensk, Russia.
— Photo by Andrea Cordova, Office of the Chancellor