Three UCCS students majoring in criminal justice were recently selected to be the first recipients of the John Suthers Scholarship.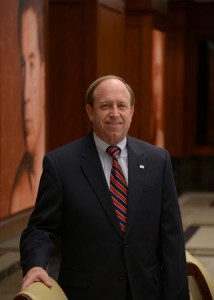 April Rogers, a Craig junior, and Isaac Abila, Pueblo junior, will receive a $1,000 scholarship for the 2014-2015 academic year, becoming the second and third students to receive the scholarship. They learned of their awards April 7. The first recipient, Don Apelo, Colorado Springs senior, received a $500 scholarship for the Spring 2014 semester.
"We are honored to assure John Suthers' legacy at UCCS through granting annual scholarship in his name," Terry Schwartz, associate dean, School of Public Affairs, said. "This scholarship will be awarded to deserving young men and women who are as committed to public service as John Suthers himself."
Currently the Colorado Attorney General, Suthers is a scholar in residence at UCCS and teaches criminal justice courses. His public service career began in 1979 as a deputy district attorney and continued for two terms as Fourth Judicial District Attorney for El Paso and Teller counties. Later, he served as executive director of the Colorado Department of Corrections and as U.S. Attorney for the District of Colorado. Since 2005, he has served as Colorado Attorney General, the state's top law enforcement official.
During a recent reception, Suthers thanked donors to the scholarship and shared that his own college attendance was made possible through scholarship.
"I know the impact a scholarship can have," Suthers said.
The scholarship was funded through donations to the CU Foundation and will support up to two students majoring in criminal justice annually. For more information about the scholarship or to donate, contact Jaime Garcia, executive director of development, University Advancement, Jaime.garcia@uccs.edu.
About the recipients
April Rogers
A graduate of Moffat County High School in northwest Colorado, Rogers hopes to work in law enforcement following her planned May 2015 graduation from UCCS. She previously worked on campus, and currently works for a large retail store in loss prevention. On campus, she is active in student government and the UCCS Honors Program.
Isaac Abila
A graduate of Centennial High School in Pueblo, Abila hopes to work in law enforcement following his planned May 2015 graduation. He also hopes to earn advance degrees and to someday teach at the college level. Abila works at a local retail store and commutes to UCCS from Pueblo where he lives with his mother and a younger brother. On campus, he has assisted with a Thanksgiving food drive and a Christmas toy drive.
Don Apelo
A U.S. Army veteran, husband, and father of two children, Apelo is a non-traditional student. He enrolled at UCCS in 2012 and plans to graduate in May with a bachelor's degree. He will begin work on a master's degree in public administration at UCCS this summer and hopes to continue his education with a degree in law. Apelo is active on campus, serving as the UCCS Student Body Vice President, and as a peer educator.