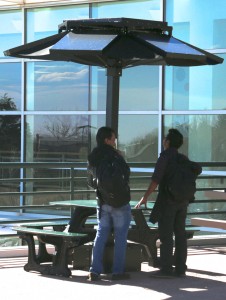 Three new solar power picnic tables will offer faculty, staff and students the chance to charge electronic devices while enjoying Colorado Springs' 300 days of sunshine.
Each table is made of recycled materials and is equipped with four standard AC power outlets and two USB ports, all powered by solar panels on the table's umbrella. A number of LED lights located under the umbrella will light the tables at night.
Because the tables run solely on solar energy, they are off the university's grid and require no outside energy source. A meter displays how much electricity is being generated and consumed.
The tables are located on the Upper Plaza, El Pomar Plaza and outside the south entrance to the University Center near MOSAIC and the Copy Center.
According to Matthew Driftmier, secretary of sustainability, Student Government Association, the tables provide students with a hands-on opportunity to learn more about the university's sustainability efforts. 
"A lot of what the different sustainable groups on campus do is often done behind the scenes," Driftmier said. "[We] wanted these tables to be a physical, tangible product of UCCS' sustainable practices that students get to interact with and use."
The project was unanimously passed by the Green Action Fund which uses a $5-per-semester student Solar Fee to fund sustainability-related projects on the campus.
For more information about the Green Action Fund, please visit www.uccs.edu/gaf.