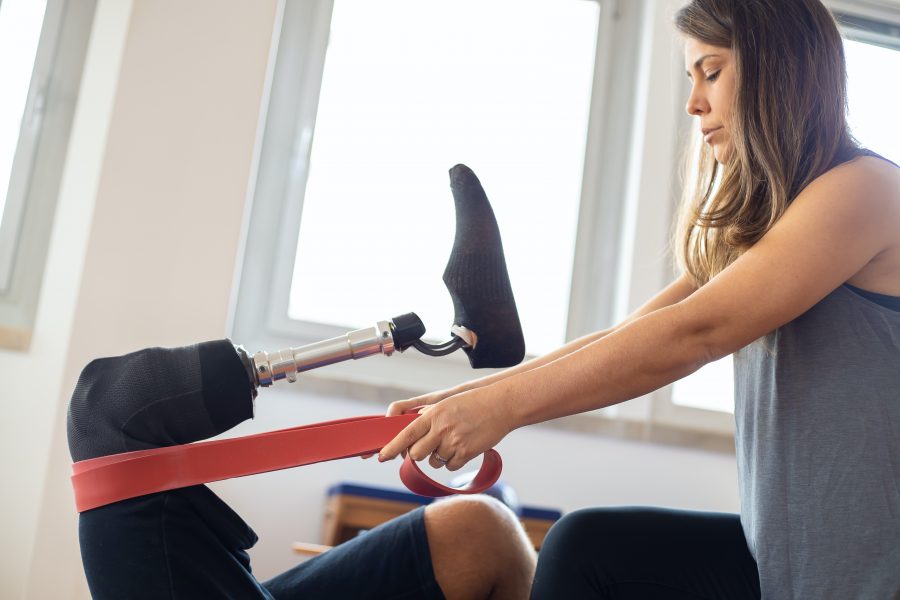 New year, new program.
The University of Colorado School of Medicine at the Anschutz Medical Campus (CU Anschutz) and the University of Colorado Colorado Springs Helen and Arthur E. Johnson Beth-El College of Nursing and Health Sciences have renewed their academic partnership within the University of Colorado system.
Utilizing resources and talent from both CU Anschutz and UCCS, the universities plan to provide a unified academic curriculum for students pursuing a Doctor of Physical Therapy (DPT) degree. Students in the DPT hybrid pathway at UCCS will spend the same amount of time in clinical rotations and have the same graduation requirements as the residential DPT pathway students at CU Anschutz.
UCCS is currently recruiting the Director for the DPT hybrid pathway, and both UCCS and CU Anschutz will be hiring program faculty with joint appointments throughout 2023.
The DPT program prepares graduates to be competent physical therapists capable of assuming roles as clinical practitioners, educators, scholars/researchers, administrators, consultants and advocates.
"We look forward to combining our world-class physical therapy education with innovative teaching practices and practical experiences," said Jackie Berning, UCCS Health Sciences department chair.
Students in the UCCS hybrid DPT pathway will have the option to live in Colorado Springs throughout their DPT education and commute to the William J. Hybl Sports Medicine and Performance Center for approximately 7-14 days of intensive lab immersion within each semester or learning block. The rest of the course content occurs online in synchronous or asynchronous format, allowing the students to reside in their local communities. The hybrid track blends the convenience of online learning with the excellence of in-person lab immersion experiences throughout the educational experience. Students will complete the 116 credit-hour hybrid DPT pathway at UCCS in 2.5 years.
Students with specific interest in rural healthcare and preparation for pursuing a physical therapy career in a rural community are considered ideal candidates for the hybrid program in Colorado Springs. Clinical experiences will be offered in the Colorado Springs area, rural Colorado and across the nation. Students will also be encouraged to complete clinical experiences in their local community.
"Our partnership with UCCS allows us to better meet the healthcare needs in Southern Colorado, strengthens our inter-campus collaborations, and positions us to lead as the delivery of clinical education continues to evolve," said Michael Harris-Love, SOM Associate Dean of Physical Therapy Education.
Beginning with the 2023-2024 admissions cycle, there will be one application for both pathways. Applicants will be asked to answer whether they want to only be considered for one pathway, or whether they prefer one but would consider either, within the University of Colorado program-specific questions. Based on the applicant's choice, they would then be directed to a slightly different essay question.
The degree requirements are the same for either pathway. A bachelor's degree or higher in any field except physical therapy is needed to enroll. It is permissible to apply before the bachelor's degree is completed, but enrollment in the program will not be allowed until the bachelor's degree is awarded.
On November 23, 2022, the Commission on Accreditation in Physical Therapy Education (CAPTE) of the American Physical Therapy Association (APTA) approved the Application for Approval of Substantive Change. Prospective students interested in this pathway can plan to apply in the 2023-2024 Physical Therapist Centralized Application Service (PTCAS) cycle.
Learn more about the program and apply online at johnsonbethel.uccs.edu.
About Helen and Arthur E. Johnson Beth-El College of Nursing and Health Sciences
The Helen and Arthur E. Johnson Beth-El College of Nursing and Health Sciences has trained and educated the region's health professionals and human performance professionals for over 118 years, and in 2022, celebrated 25 years with the University of Colorado Colorado Springs (UCCS).
At Johnson Beth-El, students meet the needs of a rapidly changing health care landscape by providing innovative, nationally accredited, and ranked programs.
Johnson Beth-El's nursing programs are accredited by the Commission on Collegiate Nursing Education (CCNE). The Clinical Simulation Learning Center is accredited by the Society for Simulation in Healthcare (SSH). The Master's of Science in Nutrition and Dietetics is the first Future Education Model (FEM) registered dietitian nutritionist (RDN) program in Colorado and accredited by ACEND. The Master of Science in Athletic Training (MSAT) became the first graduate athletic training program in Colorado when it was awarded CAATE accreditation in Spring 2020.
Our traditional Bachelor of Science in nursing (BSN) program is ranked nationally by US News and World Report. The Helen and Arthur E. Johnson Beth-El College of Nursing and Health Sciences ranks #67 out of 681 national nursing programs. The Helen and Arthur E. Johnson Beth-El College of Nursing and Health Sciences is consistently ranked as a US News and World Report's Top online Master's in Nursing program for veterans. In 2022, we ranked #1 in the state of Colorado for veterans. Learn more about the Johnson Beth-El at johnsonbethel.uccs.edu.
About University of Colorado School of Medicine
The University of Colorado School of Medicine offers comprehensive, lifelong, interdisciplinary learning for health care professionals. With state-of-the art laboratories for discovery and innovation, a commitment to decreasing health disparities and increasing health equity, and faculty who provide world-class clinical care at Children's Hospital Colorado and UCHealth University of Colorado Hospital, the CU School of Medicine is transforming the health care landscape. Learn more at medschool.cuanschutz.edu.