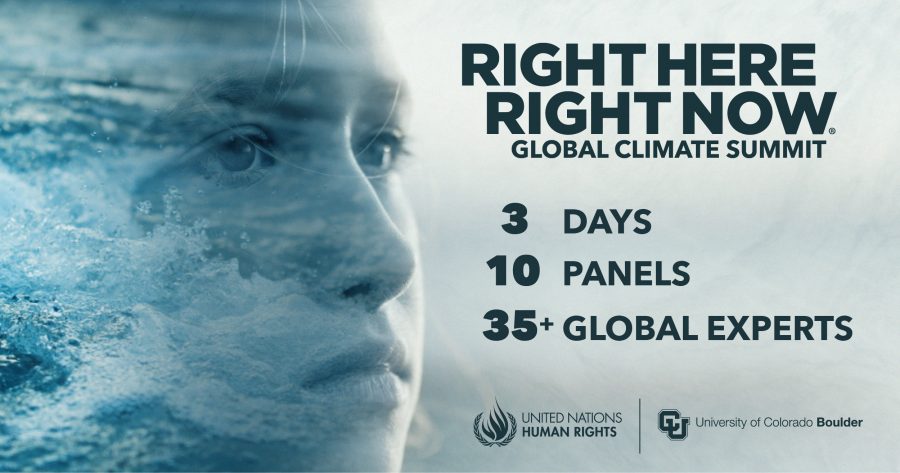 UCCS is proud to be a partner in a newly formed worldwide education coalition in support of the Right Here, Right Now Global Climate Summit.
The Dec. 1–4  Right Here, Right Now Global Climate Summit, hosted by United Nations Human Rights and the University of Colorado Boulder, will take place virtually and in person on the university's campus in Boulder.
The summit will bring together thought leaders, youth activists, and scientific, political, educational, cultural and industry experts from around the world for keynote addresses and panels exploring how climate change impacts fundamental rights, including the right to food, safe water, housing and health.
The event will include three keynote speakers, including former president of Ireland and climate justice advocate Mary Robinson, Indigenous rights advocate Sheila Watt-Cloutier and human rights advocate Kumi Naidoo, in addition to more than 30 other panelists and speakers from Colombia, Cameroon, Trinidad and beyond.
"Climate change is already having significant impacts around the world, and marginalized communities often bear the brunt of the devastating impacts of these events," said Heidi VanGenderen, CU Boulder chief sustainability officer and co-chair of the summit's steering committee. "Through the new Right Here, Right Now Education Coalition, we aim to galvanize people around the world to focus on addressing the urgent issue of climate change through a human rights lens."
To raise awareness of these issues, CU Boulder is partnering with multiple educational organizations. Right Here, Right Now Education Coalition partners include the Association of American Universities (AAU), American Council on Education (ACE), Association for the Advancement of Sustainability in Higher Education (AASHE), Association of Public & Land Grant Universities, Global Council for Science and the Environment, Second Nature, the International Sustainable Campus Network and the University Climate Change Coalition (UC3). Through this coalition, the summit is already connecting with thousands of educational institutions and related entities around the world.
Departments, classes, clubs and people affiliated with educational institutions are encouraged to join the summit by watching events locally from their computers and phones—either live or through recordings. 
"The summit organizers want to thank our amazing partners," said VanGenderen. "To solve the world's climate crisis, young people from all nations need the chance to learn about how climate change is affecting their own communities. These organizations are helping to share those opportunities with the next generation of global leaders."