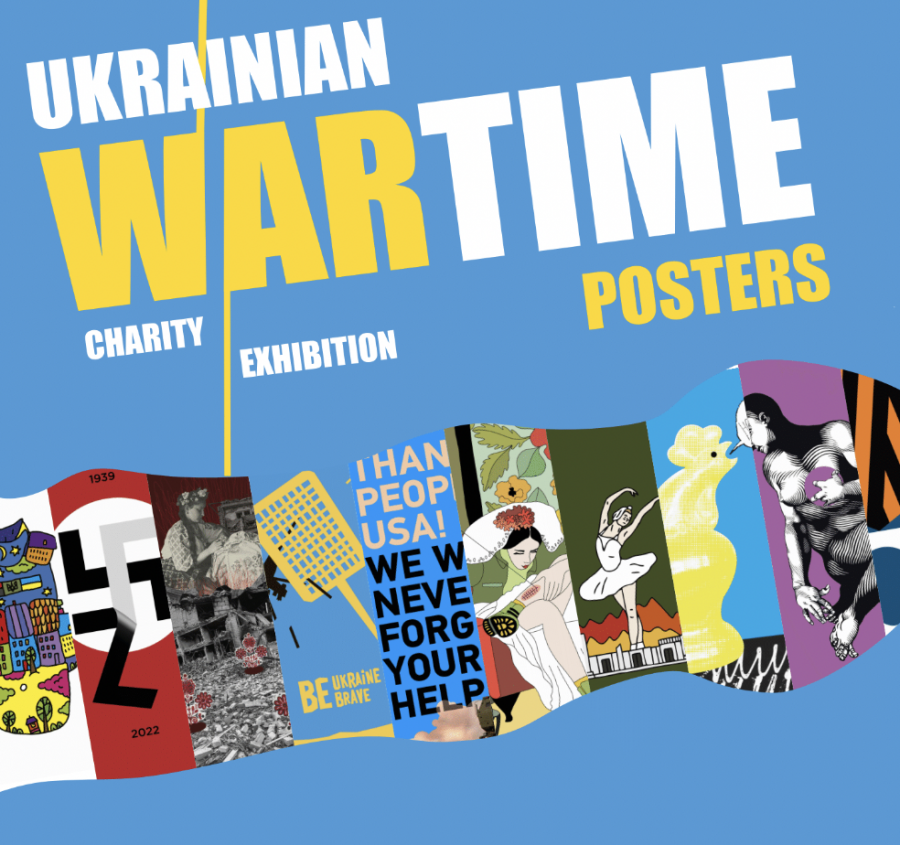 Ukrainian guest curator Olena Speranska organized ten contemporary Ukrainian artists for the exhibition, Ukrainian Wartime Posters, making its Colorado premier at the UCCS Galleries of Contemporary Art (GOCA) Nov. 11, 2022.
First partially exhibited at the National Center "Ukrainian House" in Kyiv, Ukraine, this powerful collection of contemporary art protest posters traveled to New York City in September 2022 and makes a stop at the Ent Center for the Arts at UCCS this fall.

Ten Ukrainian contemporary artists – Nastya Gaydaenko (Kyiv), Oleksandr Grekhov (Kyiv), Mykola Honcharov (Kyiv), Zukentiy Horobyov (Kyiv), Katya Lisova (Kyiv), Dasha Podoltseva (Kyiv), Oleksiy Sai (Kyiv), Nikita Shylimov (Kharkiv), Nikita Titov (Kyiv), Albina Yaloza (Kyiv) – created posters interpreting "the truth about war crimes committed by Russia on the territory of Ukraine after the full-scale invasion that started on the 24th of February 2022.

The resulting Ukrainian wartime posters will be presented in Colorado Springs as part of the effort to
fight Russian propaganda. Visitors and community members are encouraged to donate funds for the
nonprofit enterprise of the Ministry of Health of Ukraine – NIZHYNSK MUNICIPAL MATERNITY HOSPITAL in the Chernihiv region through the website set up for this traveling project.

Olena Speranska, the exhibition curator, Director of the international contemporary art residency,
BIRUCHIY, and Vice President of the Ukrainian NGO "Contemporary Art Researchers Union," states:
"Through their creative work, the artists show the reflections of the collective grief, despair, unbearable pain, sorrow and, at the same time, the willingness to fight and win. It is a cry for help, a declaration of our indomitable spirit and bravery, with elements of bitter irony and truth about specific events and war crimes."

"It is a great honor and at the same time a big responsibility to do such an important project in the U.S –
the country that supports Ukraine the most not only politically and economically, but also with military
aid," shares the manager of New York event, Arthur Zgurov M.D., activist, and leader of the anti-war
Ukrainian movement in New York City. "It is a very personal thing for me. I worked as a doctor in
Ukraine, and I know that it is extremely important to support Ukrainian doctors, especially today, during
the war. Every day they are fighting for the lives of other people, just as our soldiers fight for our
country."

The project in Colorado Springs was initiated and coordinated by Colorado College alumnus Serhii
Pokhylko, who in the summer of 2022 proposed to Daisy McGowan, Director of the UCCS Galleries of
Contemporary Art, traveling contemporary Ukrainian art to Colorado Springs with a goal of highlighting
the artists creating works in response to Russia's war against Ukraine. Pokhylko was born and currently
lives and works in Kyiv, Ukraine, but has connections to Colorado Springs after receiving his B.A. from
Colorado College. Local arts supporter Tim Boddington championed the project and is providing
generous support to bring it to reality.

The event is organized in partnership with the Consulate General of Ukraine in New York, Contemporary
Art Researchers Union NGO (Ukraine), International Art Residency BIRUCHIY (Ukraine), The National
Center "Ukrainian House", (Kyiv, Ukraine), Cybertone Inc., (USA) and Speedpro Imaging LIC (Long Island City, NY, US).

The UCCS Galleries of Contemporary Art exhibition is generously supported by Tim and Cate
Boddington, with season support for GOCA provided by Colorado Creative Industries, the National
Endowment for the Arts, City of Colorado Springs, LART, the Bee Vradenburg Foundation for the Arts,
and GOCA PAC donor circle members.

Join GOCA's Director Daisy McGowan and guest curator Olena Speranska on Friday, Nov. 11 from 5 to 8 p.m. for the opening reception and gallery talk. Speranska will present a gallery talk about the exhibition and her lifelong work with Ukrainian contemporary artists at 6:30 p.m.
About the BIRUCHIY Contemporary Art Project and Nizhyn City Maternity Hospital
BIRUCHIY is a unique nature reserve in which conditions for mutual creativity and creative partnership of free artists and the audience are created. The organization is focused on cultivating an information environment aimed at promoting the development of humanistic culture and contemporary art in Ukraine.

Communal Non-Profit Enterprise of the Ministry of Health of Ukraine NIZHYN CITY MATERNITY HOSPITAL is located in Nizhyn (Chernihiv region). The facility was damaged during the war waged by Russia and now operates both as a maternity hospital and a location where all people in need can receive care, as the other hospital in Nizhyn (Chernihiv region) was fully destroyed. BIRUCHIY was asked for help collecting money on behalf of Nizhyn City Maternity Hospital to help buy special medical equipment. For more information or to offer your support, visit http://biruchiyart.com.ua.
About UCCS Galleries of Contemporary Art (GOCA)
GOCA is a regional hub of contemporary art, culture, and conversation. Independently producing exhibitions and programs through a collaborative approach with artists of national, international and regional significance, GOCA engages UCCS and the greater community in dialogue around contemporary culture. GOCA is a contemporary arts organization with two galleries – the flagship Marie Walsh Sharpe Gallery at the Ent Center for the Arts, a satellite location opened in 2010 in the Plaza of the Rockies building in the heart of downtown Colorado Springs, and the Art WithOut Limits Public Sculpture Program on the grounds of the Ent Center and adjacent Pulpit Rock Open Space. For more information, visit entcenterforthearts.org/goca and gocadigital.org.
About the Ent Center for the Arts
This first-class arts facility, located on the University of Colorado Colorado Springs campus serves the community as a hub for the arts and an inspiration in academics. The vision for the facility was and is to foster a creative environment to house arts that will serve the Pikes Peak region, allowing artists to inspire and amplify one another rather than compete against one another. Art brings together diverse peoples and ideas in ways no other discipline can, and the Ent Center will be a pillar of the arts community within Colorado Springs. Learn more at entcenterforthearts.org.