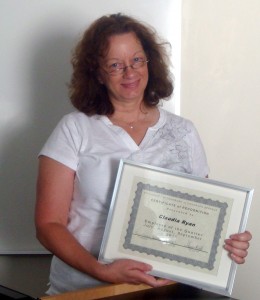 Claudia Ryan, operations manager, Public Safety, was recently named Employee of the Quarter in recognition of her professional and personal skills.
"I'm honored and touched," said Ryan, "This was totally unexpected."
Ryan noted she is no different from most of the UCCS work force, trying to do a job the best one can, with no expectations other than doing the job well.
In her letter nominating Ryan, Josephine Benavidez, director, Pre-Collegiate Development Program, said Ryan "possesses exemplary interpersonal communication skills in a consistent and honest manner.  Claudia approaches daily issues and problems in a refined manner, gracious and helpful at the same time."
Ryan's supervisor, Jim Spice, director and chief of police, Public Safety, praised her excellent organizational skills, people skills, and dedication to the department and to UCCS.
"Claudia has had to work with numerous staff and faculty on various issues and problems," Spice wrote in his letter of support. "She approaches all problems and persons she encounters the same each and every time – professionally, enthusiastically, patiently, courteously  and, most importantly, with compassion."
Among her duties, Ryan supervises two student employees and two state classified employees. She is responsible for various Department of Public Safety projects, including all department human resource paperwork, campus-wide background checks, department finance and accounting control, maintenance issues, police records, and campus crime report statistics.
But Ryan minimizes her individual contributions.
"I'm like everybody else," she said. "I have good and bad days. Some days you shine, others, you trip up. But you keep going. You do your job and try to help people along the way."
"I'm grateful for the award," she added, "but the people in this department are dedicated, hard workers, and we're a team. So it's everybody's award, not just mine."
She said she plans to bring snacks for the department in the upcoming weeks to show her appreciation.
UCCS Employee of the Quarter recipients are classified or professional exempt employees who are recognized for exceptional service to the university.
— Ron Fitz